Kangaroo Valley is an Australian mecca for nature lovers, but that's just the tip of what's in store. Whether you have a green thumb, a passion for history, or a distinguished palette, Kangaroo Valley has an experience you'll never forget. So what to do in Kangaroo Valley? This guide will ensure you make the most of your time in the incredible New South Wales landscape. Explore best things to do in Kangaroo Valley with us!
Nature-Focused Things To Do In Kangaroo Valley
Fitzroy Falls
One of the most popular waterfalls in Kangaroo Valley, Fitzroy Falls, is located within Morton National Park and is open to the public from 9 am-4 pm. The falls drop 80m onto a picturesque rock formation, and guests are welcome to the falls from two different lookouts.
Fitzroy Falls also has a picnic area and encourage families to bring a healthy lunch and spend the day exploring trails or perusing the visitor center. Unfortunately, swimming is not allowed at Fitzroy Falls, but the next watering hole will cool down the entire family.
See more: Best Waterfall and Swimming Hole in Kangaroo Valley
Spend A Day On The Green 
The Kangaroo Valley Golf Course attracts international recognition for being one of the most beautiful and challenging Australian golf courses. Golfers are invited to play a rigorous 18 or 9-hole set and can even do a virtual tour of the course before arriving. With a pro shop on site, spoil the special golfer in life with a thoughtful purchase or voucher for future holidays. 
Flat Rock Watering Hole
For experienced hikers, Flat Rock Watering Hole combines adventure and nature into a picture-perfect day. This trail is a 1.4 km return and is not friendly to four-legged family members. While hikers and swimmers are encouraged to bring a blanket and relax, we encourage you to leave the environment as clean as when you found it. 
Hindmarsh Lookout
The Hindmarsh Lookout is a 360° observation point located within the Belmore Falls trail. Perfect to capture a family photo or a budding romance; the lookout shows off the natural beauty found within Kangaroo Valley. 
Budderoo National Park
Budderoo National Park might require an overnight journey. The park is brimming with natural wonders, including the Minnamurra and Carrington Falls, plus the leisurely  Izzards lookout track. Further down, under unique things to do, discover the numerous wildlife opportunities families can enjoy all within this National Park'sPark's boundaries.  
Canoe Or Kayak Bendeela Recreation Park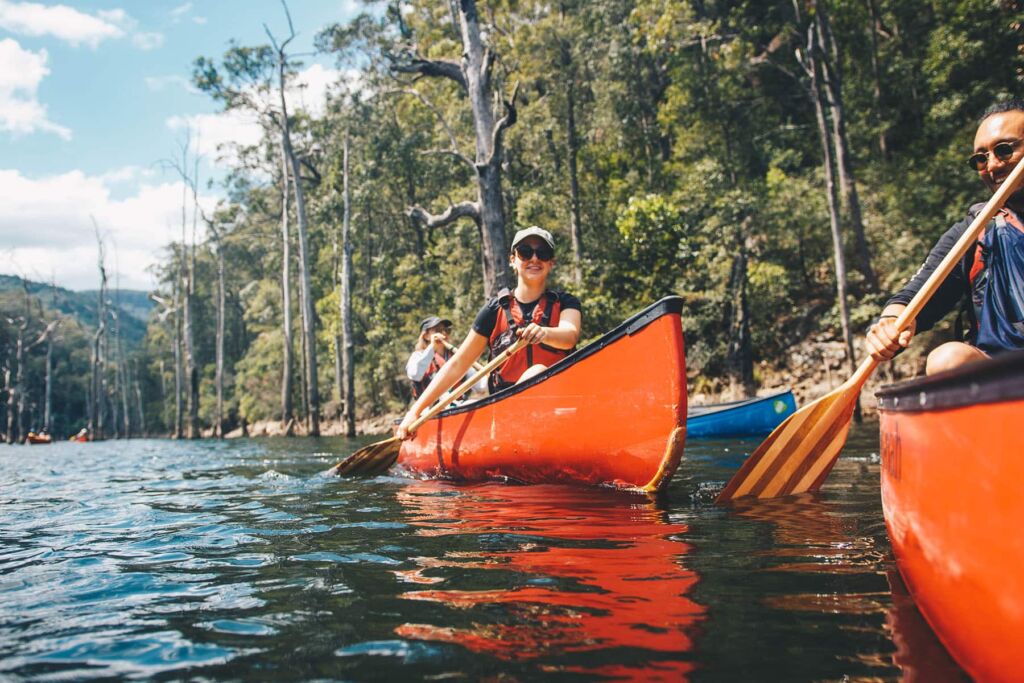 For guests that prefer water over land, Kangaroo Valley Escapes is thrilled to partner with Valley Outdoors and Paddle & Portage Canoes. With packages for a half or full day plus varying degrees of difficulty, launch your nature lovers' dreams and see the valley while exploring the babbling Kangaroo Valley River.
See more: Canoeing And Kayaking Guide In Kangaroo Valley
Wine And Dining Things To Do In Kangaroo Valley
The General Cafe
Whether you want to start your day with a wholesome breakfast or you are looking for locally sourced picnic treats, The General Cafe is the place that has it all. Dedicated to providing a diverse menu full of local and fresh produce, visitors have numerous options and rarely leave unsatisfied. 
Cooking Class At The Hampden Deli
The Hampden Deli truly does it all! Discover a selection of pickled, fermented, brined, pre-cooked, or baked deli produce, making it easy to entertain or graze while visiting Kangaroo Valley. The deli also offers wine-pairing menus, private chef tables or catering, plus cooking classes!
Cheesemaking Classes 
For visitors whose hearts beat for gouda or brie, Valley Cheesemakers is the best place to spend your afternoon. With several classes that walk participants through the history and range of local dairy delights, and even get delectable souvenirs. 
Silos Estate
Kangaroo Valley is home to several award-winning wineries. Make a reservation and experience the culinary delights of local restauranteur and caterer chef Rob Salmon, and dine in the rustic and intimate winery restaurant. The Silos Kitchen team is also available for private events ranging from birthdays to small wedding receptions. 
Coolangatta Estate
The Coolangatta Estate is another wonderful Kangaroo Valley winery to consider for casual weekend fare. Coolangatta Estate offers a set menu available for lunch or dinner service Saturday and Sunday. They strongly recommend reservations and will only accommodate bookings of 20 guests with a $10 per person deposit.
See more: Discover The Best Restaurants In Kangaroo Valley
Unique and Creative Things To Do In Kangaroo Valley
Minnamurra Rainforest Centre
Located in the Budderoo National Park, friends and family can learn more about the delicate ecosystem actively protected by the friendly and expert staff. With guided walkways and valuable information, you'll likely see or hear the lyrebird, eastern water dragon, or swamp wallaby.
Watch Wombats at Bendeela Campground
The "Bare-nosed" wombats of Bendeela are a unique nocturnal marsupial to Australia. The best chance to see them is at dawn or dusk when they slowly awaken and begin their day. The Bendeela Recreation Area is an excellent location for a leisurely canoe trip. Families can have a BBQ before heading back to their Kangaroo Valley accommodation.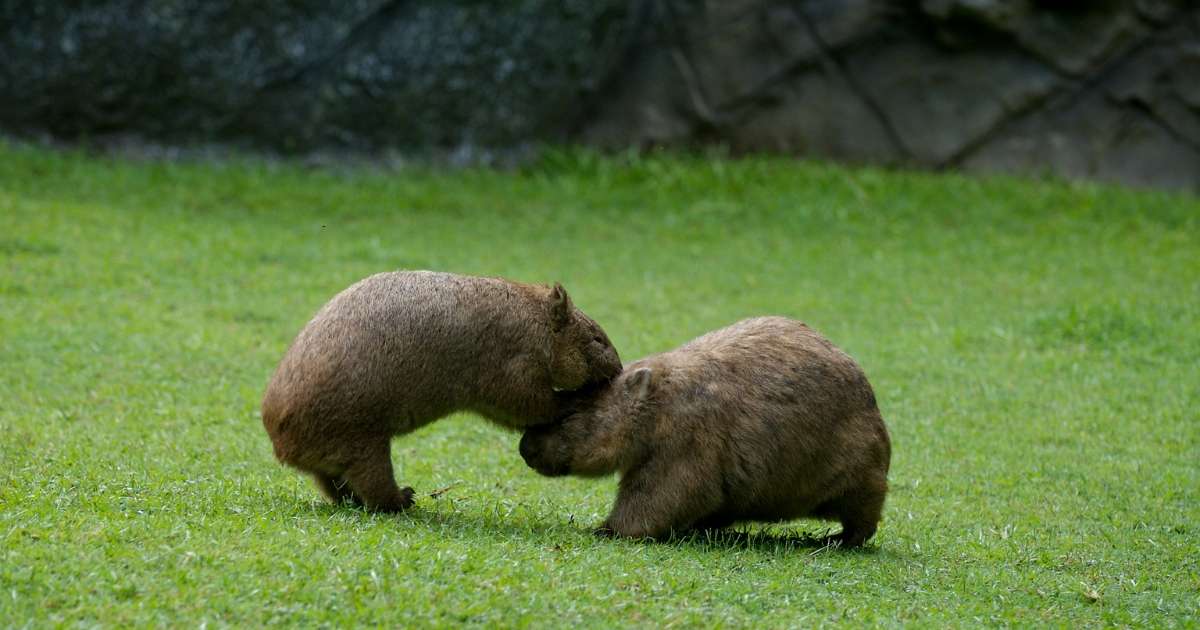 The Bendeela Campground provides the best bet to see Kangaroo Valley's namesake animals. The eastern grey kangaroos are prone to enjoying the campgrounds around dusk. Still, the park reminds all patrons not to feed the wombats or kangaroos.
See more: Kangaroo Valley Wildlife
Drive across Hampden Bridge
Hampden Bridge opened in November 1895 and is now a heritage-listed Kangaroo Valley landmark. This suspension bridge allows Moss Vale Road to cross the Kangaroo River and is a recommended location for photographs. While guests cannot stop their cars on the bridge, taking a photo before, after, or from below on the river bank are an appealing option. 
Walk Along A Slice Of History
For Australian historians, Kangaroo Valley has a self-guided walk along several protected and National Trust-listed architecture. Moss Vale Road holds over ten locations that have been preserved, including the community hall and the courthouse, and the police station. 
Embrace Art In All It's Forms
After spending so much time outdoors, take a break and explore the Kangaroo Valley Arts and Culture community. Biannual festivals allow guests to tailor their weekend adventures to sculptures or painting showcases. Open year-round is the Kangaroo Valley Leadlights artisanal shop. Centrally located on Moss Vale Rd, Leadlights specializes in traditionally-made leadlight glass doors, window panels, and Murano-style hand-blown glass vase giftware. 
Book A Trike Tour
A unique way to explore, The Kangaroo Valley Trike Tours will host a guided tour for visitors that explores several different routes. Trike Tours will provide all helmets, over-vests, and gloves on the day of your tour. Choose a course from wineries to the valley floor. Rules for the trike tours state that an adult must accompany passengers from 8-17, and the trike can only hold two passengers. 
Explore more about Kangaroo Valley with us at: Explore Kangaroo Valley