Kangaroo Valley is an Australian mecca for nature lovers, but that's just the tip of what's in store. Whether you have a green thumb, a passion for history, or a distinguished palette, Kangaroo Valley has an experience you'll never forget.
So what to do in Kangaroo Valley? This guide will ensure you make the most of your time in the incredible New South Wales landscape. Explore best things to do in Kangaroo Valley with us!
Nature-Focused Things To Do In Kangaroo Valley
Kangaroo Valley Attractions & Activities
Fitzroy Falls
Fitzroy Falls is a famous waterfall in Kangaroo Valley. It's in Morton National Park and open to the public from 9 am-4 pm. The falls drop 80m onto a picturesque rock formation, and guests are welcome to the falls from two different lookouts.
Fitzroy Falls has a picnic area. Families are encouraged to bring a healthy lunch and explore trails or visit the visitor center. Unfortunately, swimming is not allowed at Fitzroy Falls, but the next watering hole will cool down the entire family.
See more: Best Waterfall and Swimming Hole in Kangaroo Valley
Spend A Day On The Green 
The Kangaroo Valley Golf Course attracts international recognition for being one of the most beautiful and challenging Australian golf courses. Golfers are invited to play a rigorous 18 or 9-hole set and can even do a virtual tour of the course before arriving. With a pro shop on site, spoil the special golfer in life with a thoughtful purchase or voucher for future holidays.
Flat Rock Watering Hole
For experienced hikers, Flat Rock Watering Hole combines adventure and nature into a picture-perfect day. This trail is a 1.4 km return and is not friendly to four-legged family members. While hikers and swimmers are encouraged to bring a blanket and relax, we encourage you to leave the environment as clean as when you found it.
Hindmarsh Lookout
The Hindmarsh Lookout is a 360° observation point located within the Belmore Falls trail. Perfect to capture a family photo or a budding romance; the lookout shows off the natural beauty found within Kangaroo Valley.
Budderoo National Park
Budderoo National Park might require an overnight journey. The park is brimming with natural wonders, including the Minnamurra and Carrington Falls, plus the leisurely Izzards lookout track. Further down, under unique things to do, discover the numerous wildlife opportunities families can enjoy all within this National Park'sPark's boundaries.
Morton National Park
Kangaroo Valley is in Morton National Park, a beautiful 1,750 square kilometers area with lots of things to do and study. The Kangaroo and Shoalhaven Rivers meet in Kangaroo Valley and the nearby Fitzroy Falls are a must-see natural attraction in Kangaroo Valley
Canoe Or Kayak at Bendeela Recreation Park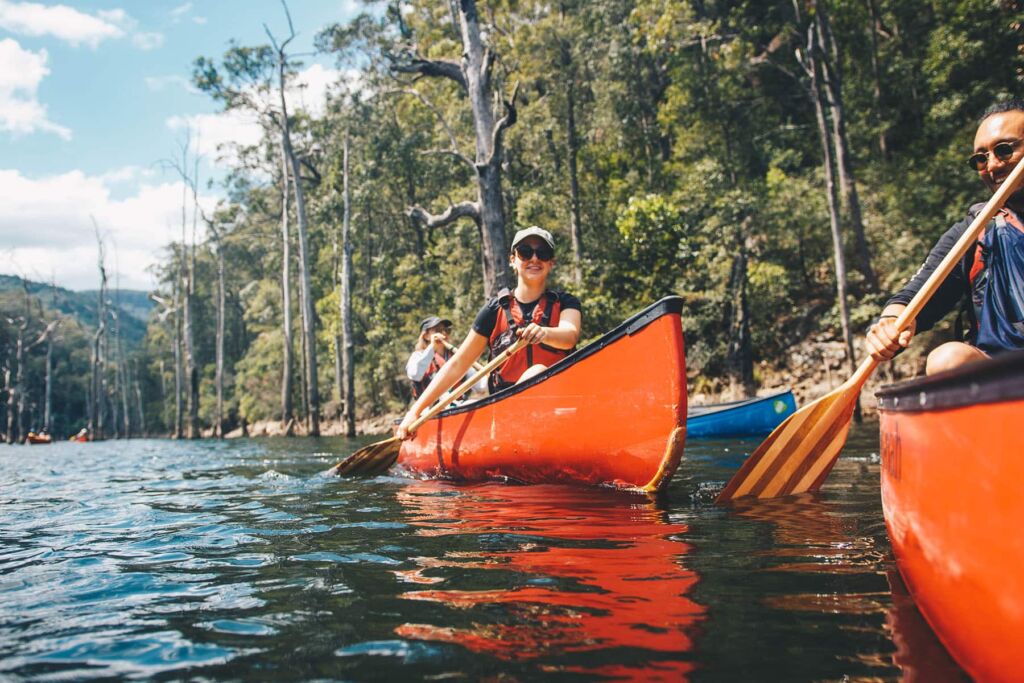 For guests that prefer water over land, Kangaroo Valley Escapes is thrilled to partner with Valley Outdoors and Paddle & Portage Canoes. With packages for a half or full day plus varying degrees of difficulty, launch your nature lovers' dreams and see the valley while exploring the babbling Kangaroo Valley River.
See more: Canoeing And Kayaking Guide In Kangaroo Valley
Other service informations:
Kangaroo Valley Guided Canoe Adventures Ph: 0404 678 082
Whether your preference be a leisurely paddle down the pristine Kangaroo River or if you are seeking an exhilarating kayaking adventure, KVAC can assist you. Local bush and wildlife expert Mike Hayes operates guided canoe tours from Hampden bridge to Bendeela. Inclusions: Expert tuition on local flora & fauna, experienced guide, fully equipped craft, PFD's, safety on rapids
Kangaroo Valley Adventure Co. Ph: 02 4465 1372, Web: www.kvac.com.au
Kangaroo Valley Kayaks. Ph: 1300 55 99 77
Bush Walking
Surrounded by the beautiful Morton National Park Kangaroo Valley has some great walks on offer. From a leisurely stroll around the village or longer hikes through pristine bushland for the more adventurous there is something for everyone. For further details go to website: nationalparks.nsw.gov.au/
Wildlife Walking Tours – On a 13 acre bush property only a few minutes drive from the township of Kangaroo Valley we offer Wildlife Walking Tours at dusk to spot the local inhabitants such as Kangaroos, Wallabies, Echidnas, Wombats and birds} whilst learning interesting facts about these Aussie icons. Phone Eloise on 0427614903
Fishing
Kangaroo Valley has some fantastic fresh water fishing for species such as Australian Bass. Explore the waterways and cast a line yourself or go on a guided fishing trip. Kangaroo Valley is also only a short drive from the pristine waters of the South Coast which offers some great saltwater fishing action.
You can guide yourself, all you need to do is purchase a fishing licence available at the Rural Supplies Store. See more at: Fishing spots in NSW
Mountain Bike Riding
Kangaroo Valley is a beautiful location to explore by bike. Rather than worrying about bringing your own, KVAC's fleet of quality mountain bikes can be hired for self guided trips or as part of a Hiking and Biking Adventure.
Kangaroo Valley Adventure Co. Ph: 02 4465 1372 w: www.kvac.com.au
Kanga Kayak Hire also has tandem bikes for hire. This is a fun way for 2 people to explore Kangaroo Valley.
Kanga Kayak Hire. Ph: 1300 55 9977
Horse Riding
Riverstone & Hallelujah Stud Ph: 02 4446 1181 or 0402 902 072 w: www.kangaroovalleyhorses.com
Trail rides that take you deep into the tranquility of majestic rain forests, through flowing creeks and meandering trails, leading you into the beauty of the extraordinary Australian bush. Bookings essential.
See more: Horse riding in Southern Highlands
Wine And Dining Things To Do In Kangaroo Valley
The General Cafe
Whether you want to start your day with a wholesome breakfast or you are looking for locally sourced picnic treats, The General Cafe is the place that has it all. Dedicated to providing a diverse menu full of local and fresh produce, visitors have numerous options and rarely leave unsatisfied. 
Cooking Class At The Hampden Deli
The Hampden Deli truly does it all! Discover a selection of pickled, fermented, brined, pre-cooked, or baked deli produce, making it easy to entertain or graze while visiting Kangaroo Valley. The deli also offers wine-pairing menus, private chef tables or catering, plus cooking classes!
Cheesemaking Classes 
For visitors whose hearts beat for gouda or brie, Valley Cheesemakers is the best place to spend your afternoon. With several classes that walk participants through the history and range of local dairy delights, and even get delectable souvenirs. 
Silos Estate
Kangaroo Valley is home to several award-winning wineries. Make a reservation and experience the culinary delights of local restauranteur and caterer chef Rob Salmon, and dine in the rustic and intimate winery restaurant. The Silos Kitchen team is also available for private events ranging from birthdays to small wedding receptions. 
Coolangatta Estate
The Coolangatta Estate is another wonderful Kangaroo Valley winery to consider for casual weekend fare. Coolangatta Estate offers a set menu available for lunch or dinner service Saturday and Sunday. They strongly recommend reservations and will only accommodate bookings of 20 guests with a $10 per person deposit.
See more: Best Restaurants and Cafes In Kangaroo Valley
Kangaroo Valley Village
The village offers some quaint and interesting shops, cafés and restaurants (see dining in Kangaroo Valley). A mixture of local produce, specialist and antique stores await you. The area also has its own nursery, while the show grounds feature frequent spectacles – visit the Kangaroo Valley Tourist website for details. Pioneer Park Museum gives a wonderful insight into the area's history and if you are a lover of art, there is a variety of art to be discovered.
As well as an outdoor swimming pool with one of the best views in the area. Yoga classes can be joined or enjoy a private class designed just for your needs.
Kangaroo Valley Farmers Market
Kangaroo Valley has some superb local produce. Make sure you make the most of it on the 2nd SUNDAY OF THE MONTH. 9am to 1.00pm https://kangaroovalleyfarmersmarkets.com.au/
159 Moss Vale Road, Kangaroo Valley
See more: Southern Highlands Markets
Unique and Creative Things To Do In Kangaroo Valley
Minnamurra Rainforest Centre
Located in the Budderoo National Park, friends and family can learn more about the delicate ecosystem actively protected by the friendly and expert staff. With guided walkways and valuable information, you'll likely see or hear the lyrebird, eastern water dragon, or swamp wallaby.
Watch Wombats at Bendeela Campground
The "Bare-nosed" wombats of Bendeela are a unique nocturnal marsupial to Australia. The best chance to see them is at dawn or dusk when they slowly awaken and begin their day. The Bendeela Recreation Area is an excellent location for a leisurely canoe trip. Families can have a BBQ before heading back to their Kangaroo Valley accommodation.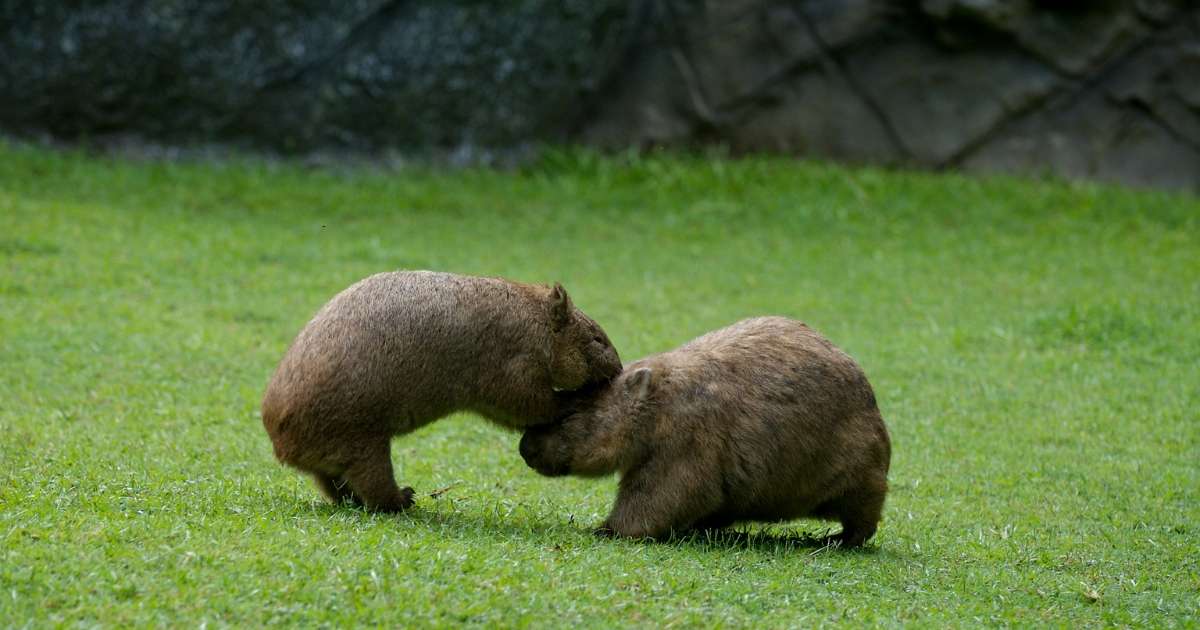 The Bendeela Campground provides the best bet to see Kangaroo Valley's namesake animals. The eastern grey kangaroos are prone to enjoying the campgrounds around dusk. Still, the park reminds all patrons not to feed the wombats or kangaroos.
See more: Kangaroo Valley Wildlife
Drive across Hampden Bridge
Hampden Bridge opened in November 1895 and is now a heritage-listed Kangaroo Valley landmark. This suspension bridge allows Moss Vale Road to cross the Kangaroo River and is a recommended location for photographs. While guests cannot stop their cars on the bridge, taking a photo before, after, or from below on the river bank are an appealing option. 
Walk Along A Slice Of History
For Australian historians, Kangaroo Valley has a self-guided walk along several protected and National Trust-listed architecture. Moss Vale Road holds over ten locations that have been preserved, including the community hall and the courthouse, and the police station. 
Embrace Art In All It's Forms
After spending so much time outdoors, take a break and explore the Kangaroo Valley Arts and Culture community. Biannual festivals allow guests to tailor their weekend adventures to sculptures or painting showcases. Open year-round is the Kangaroo Valley Leadlights artisanal shop. Centrally located on Moss Vale Rd, Leadlights specializes in traditionally-made leadlight glass doors, window panels, and Murano-style hand-blown glass vase giftware. 
Book A Trike Tour
A unique way to explore, The Kangaroo Valley Trike Tours will host a guided tour for visitors that explores several different routes. Trike Tours will provide all helmets, over-vests, and gloves on the day of your tour. Choose a course from wineries to the valley floor. Rules for the trike tours state that an adult must accompany passengers from 8-17, and the trike can only hold two passengers.

Arts and the Kangaroo Valley are a fantastic combination. Our valley is a picturesque backdrop to some of the talented local and state artists displaying their work. We are also biased, because its held on one of the properties we promote!
Explore more about Kangaroo Valley with us at: Explore Kangaroo Valley
Sport, Massage & Beauty Treatment in Kangaroo Valley
Massage & Beauty Treatment
Pamper-Me, mobile massage, beauty and spa service, is based in NSW on the beautiful South Coast . Travelling from the mountains to the sea, the Pamper Me team of professional therapists will bring to you the ultimate experience in relaxation and self indulgence.
Amore Pamper Me & Day Spa Ph: 02 4423 3707 w: www.pamper-me.com.au
"Essence Within" is a wellness business situated minutes from the township of Kangaroo Valley in the "In Essentia" Healing Hut offering a number of healing modalities such as Kahuna Bodywork (a form of Hawaiian Massage) for stress relief and muscular tension and Aromatherapy for balancing the emotions and boosting immunity. Other modalities on offer include Hypnotherapy/NLP, Time Line Therapy and Chakra dancing for releasing repressed emotions and realignment of the body, mind and energetic system. Modalities offered for groups as well as private sessions. Essence Within: Phone Eloise on 0427614903 or visit essencewithin.com.au
Network Beauty by Kate : Nowra based or they can come to you Ph: 02 4423 6683 or 0422 722 099
Leanne's Therapeutic & Remedial Massage Service Ph: 02 4422 5609 or 0400 560 955
See more at: Southern Highland Spas
Golf in Kangaroo Valley
Enjoy a round of golf at the picturesque Jack Newton designed 18 hole course at Kangaroo Valley Golf & Country Resort.
Kangaroo Valley Golf & Country Resort Ph: 02 4465 0200
Tennis in Kangaroo Valley
All weather floodlit tennis courts can be found in the village within a short walking distance of the center of town. Tennis Club website
7 Broughton Street
KANGAROO VALLEY NSW 2541
Bookings Ph (02) 4465 1512
Nearby Attractions & Activities
The Kangaroo Valley and Southern Highlands area is great for fancy places to stay and exploring nearby areas on short trips. Explore old towns, see beautiful sights, wander through charming villages, or relax on pristine beaches and swim in clear blue waters!
Nowra Zoo
Nowra Zoo is the biggest animal park in NSW South Coast. It has over 100 species of Australian animals, birds, and reptiles, and also some exotic animals.
The property is situated on 16 acres of natural bushland and is located beside the beautiful Shoalhaven River. There are numerous activities and sights to enjoy during your stay. Don't forget to check out the gift shop before you go. They have lots of souvenirs to help you remember your visit.
Open 9am – 5pm Every Day (except Christmas Day)
Ph: 02 4421 3949
Birdwatching
Kangaroo valley is a great birding location, centred on a region including the nearby Illawarra and Shoalhaven where more than 300 species have been recorded. Illawarra Birding Tours conducts Full-day and Half-day Birding Tours to habitats including bush, wetlands and beach. As  well as the birds, the tours are also very scenic with some beautiful panorama.
See illawarrabirdingtours.com.au or call Andrew Wood on 0401 907 025
Illawarra Fly Walk Tree Top Adventures
The Illawarra Fly Treetop Walk is a special rainforest adventure, where you stroll through a lovely rainforest 25 meters high. On Knight's Hill, there is a 500m walkway with two arms that move and bring visitors to the forest's edge. The forest is 45m above the ground and provides amazing views of the Illawarra and Wollongong area.
Ph: 1300 362 881 w: www.Illawarraflytreetopadventures.com.au
Cambewarra – Nearby Destination of Kangaroo Valley
Located some 17 kilometers south of the scenic Kangaroo Valley, Cambewarra offers an irresistible blend of natural beauty and exciting adventures. Whether visiting Cambewarra for the weekend or on a single day, the surrounding Cambewarra Village boasts a range of attractions to suit every taste.
Interest in this subject? Visit our 5 best days trip from Kangaroo Valley & Southern Highland
Amazing attractions around the local, best things waiting for you to explore, it's time to plan for a trip to Kangaroo Valley and enjoy all the best of this area, you deserve it!
See more: Sydney to Kangaroo Valley: All information you'll need!