The Southern Highlands is one of those scenic regions in New South Wales that makes for the perfect country escape. From the unspoiled bushland and rolling hills to the excellent cafes, restaurants, and vintage shops, this is one of Sydney's must-visit weekend getaways.
Whether visiting Southern Highlands or relocating to this part of New South Wales, there's a lot for you to explore. One of the fun activities to fit into your to-do list is a visit to the various Southern Highland markets. If you don't mind supporting local businesses or want to explore the antique shops and interact with the locals, check out Southern Highlands markets this weekend calendar.
Kangaroo Valley Farmer's Markets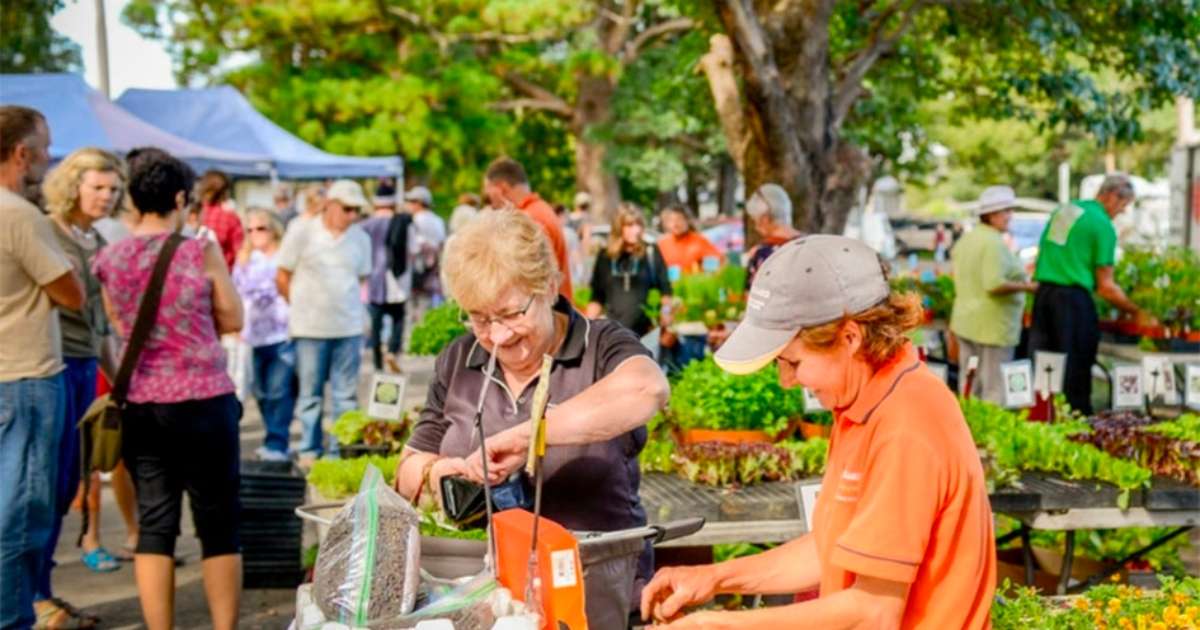 source: (shoalhaven.com)
This popular local market is located a 35-minute drive from Bowral and a two-hour drive from Sydney. It's one of those markets where you can shop fresh produce such as olives, herbs, oysters, and pastries. The Kangaroo Valley Farmer's Markets is under the management of the Friendly Inn Community Garden committee.
Berrima School Market – Southern Highlands Market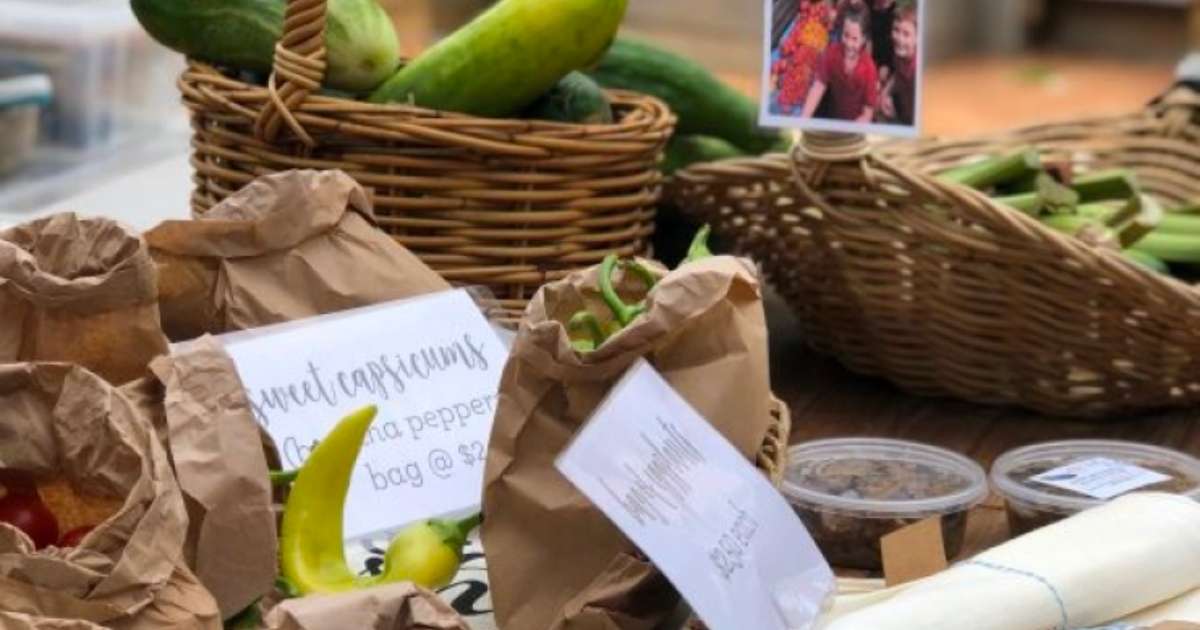 source: (theschoolyardmarkets.org)
Held at Berrima Public School on Oxley Street, this bustling market runs from 9 am to 2 pm, giving you plenty of time to shop and explore the area. As you step into the market, you'll be greeted by a vibrant mix of sights, sounds, and flavours. And with several stalls offering handmade artisan jewellery, fashion, homewares, and more, you will surely find unique treasures and delightful gifts.
The market caters to families, with various children's activities to keep the little ones entertained. While you're in Berrima, take the opportunity to explore the village and its rich history. If time allows, you can walk the quaint streets, visit local shops and even book some of the best Kangaroo Valley accommodation at Kangaroo Valley Escapes, ranging from romantic private homes to elegant, family-friendly country retreats. See our Berrima's accommodation such as: The Moors Cottage, Somerset,….
Exeter Markets – Southern Highlands Markets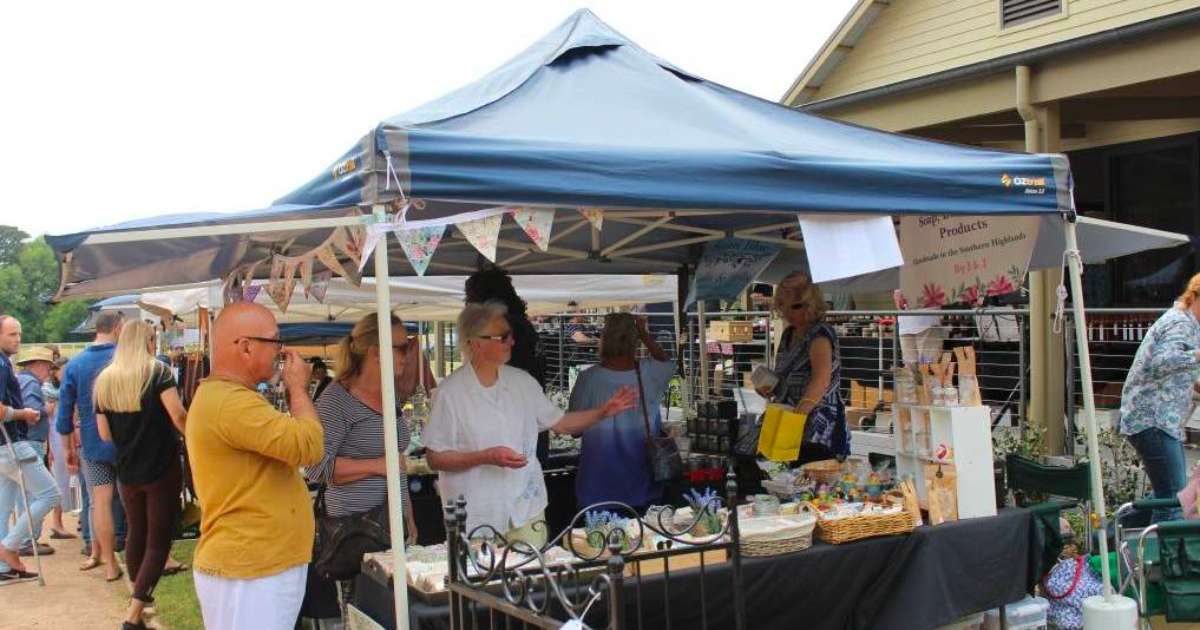 (source: southernhighlandnews.com.au)
Exeter is a village with its unique charm. Explore the stalls, and savour the local flavours as you shop around from the delightful mix of handmade goods, fashion, fresh produce, and homewares. After a few hours in this Southern Highlands markets, walk around the village as you admire the stunning English-style estates. You can also visit the working post office or check out the country railway station, which adds to its picturesque appeal.
If you want a place to relax and rejuvenate before embarking on your travel routine, Kangaroo Valley Escapes offers several accommodation options. Choose from pet-friendly family homes to luxury retreats and idyllic farm stays.
Moss Vale Showground Market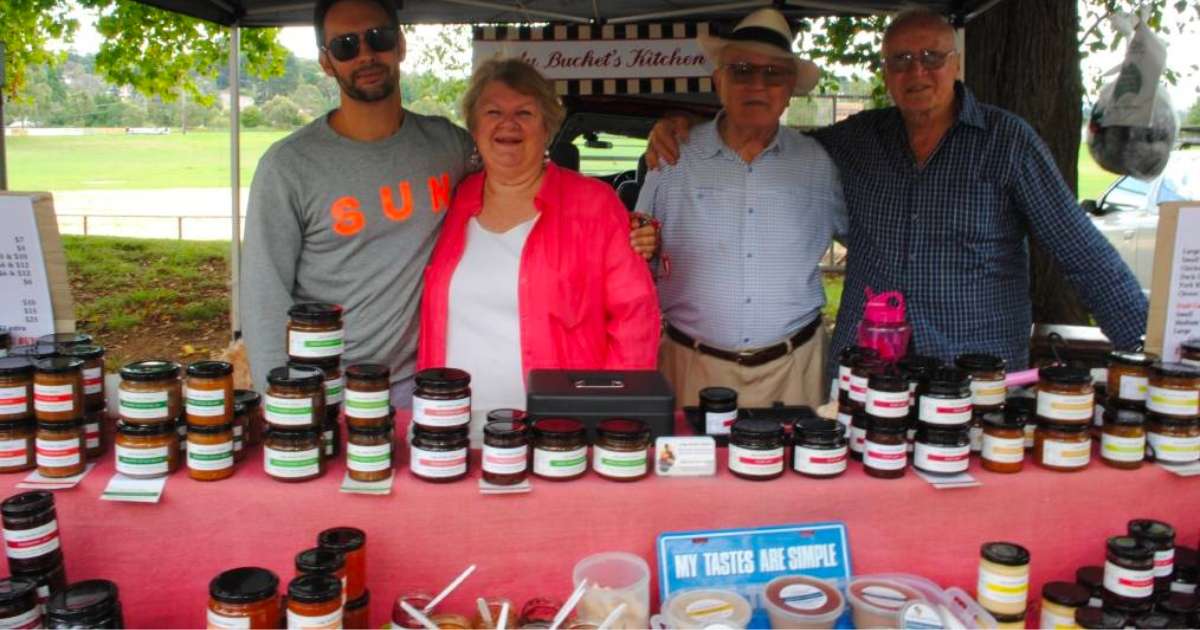 (source: southernhighlandnews.com.au)
With over 80 stalls, there's something for everyone at the Moss Vale Showground Market. Meet the talented bakers, makers, growers, and sewers as you explore the offerings. If you are down for some fantastic foods, try the taste of local delights ranging from freshly-baked bread and coffee to sweets, cakes, and honey.
This beautiful market isn't just about shopping and food. It's also a great place to unwind and enjoy the vibrant atmosphere. During school holidays, there are rides for kids to enjoy, plus the market provides essential facilities to ensure a comfortable visit.
Robertson Country Market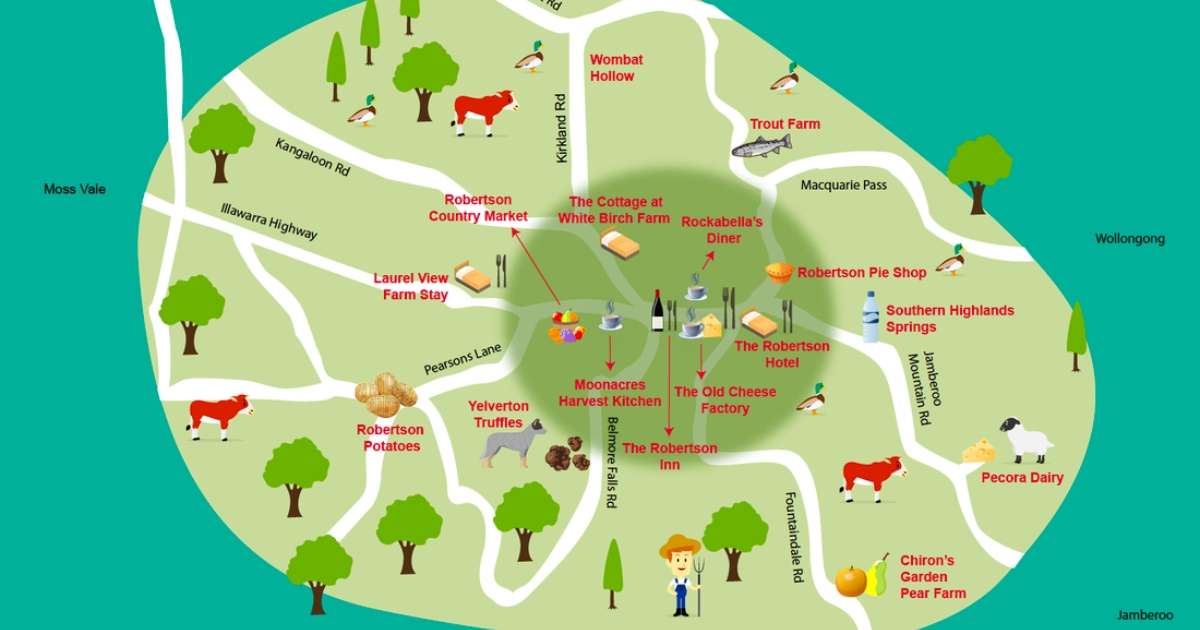 (source: bizzylizzysgoodthings.com)
Step into a world of treasure and bargain hunting at the Robertson Country Market. Whether you're searching for a one-of-a-kind item or want to shop for homemade treats, Robertson Country Market has you covered. After exploring the market, take some time to explore the village itself. The Village of Robertson, popularly known as the "Green Heart of the Highlands," is a picturesque gem nestled above Macquarie Pass and the scenic Illawarra Escarpment. Admire the natural beauty, visit local art galleries, and unwind in the warm and welcoming atmosphere.
Bundanoon Market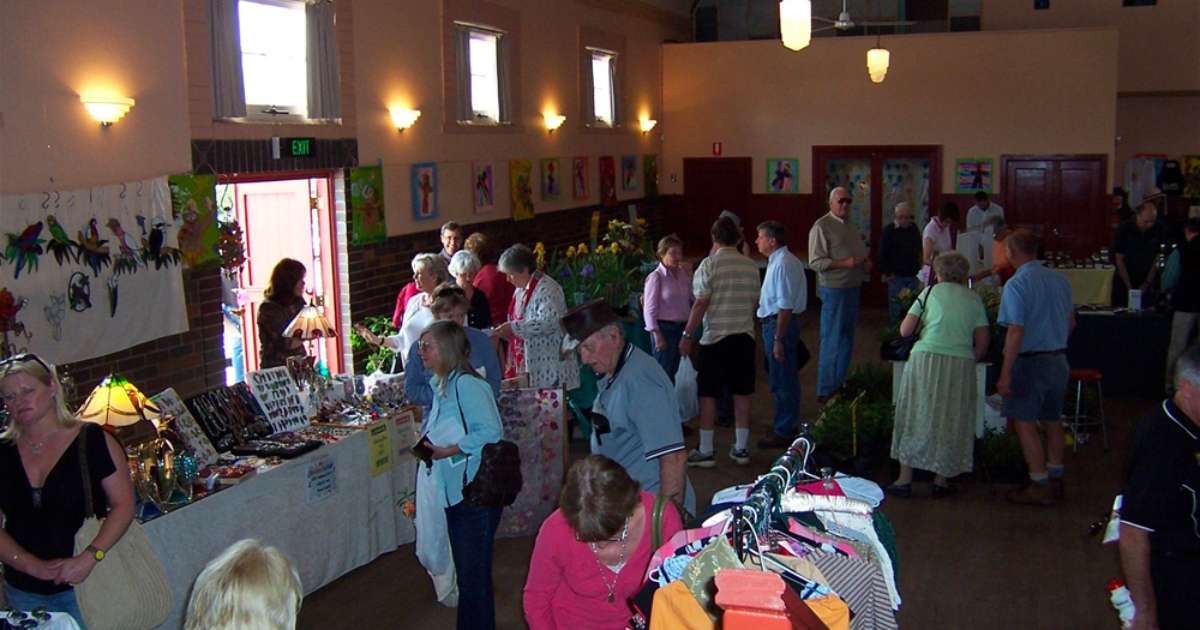 (source: bca.asn.au)
This market in Bundanoon town is a vibrant showcase of local talent. It's a treasure trove of handmade goods, clothing, woodwork, ceramics, and jewellery. The market also caters to food enthusiasts. Some fresh local produce you'll find includes eggs, bread, honey, and homemade cakes.
Bundanoon is worth the scenic drive, and the Makers Market offers something new and exciting each time you visit. Whether you're seeking unique handmade gifts, fresh produce directly from the farmers, or want to enjoy delicious treats, Bundanoon Makers Market is the place to be.
The Bowral Market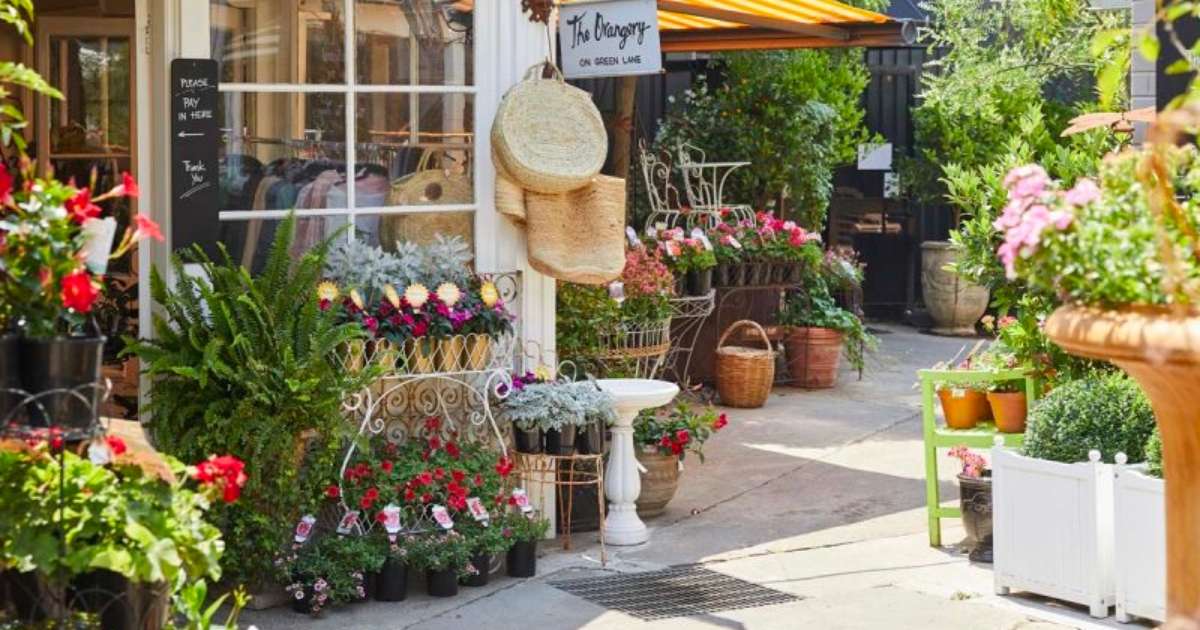 source: (australiantraveller.com)
This is one of the busiest and best-attended Southern Highlands markets, drawing in locals and visitors alike. The market caters to all shoppers thanks to its extensive mix of clothes and toys, sculptures, plants, and handmade goodies. If you are in for the food, you'll love the variety of foods and drinks this market offers.
Besides the shopping and dining experience, the Bowral Market is family-friendly, ensuring a delightful outing for visitors of all ages. There's a public toilet for visitors, plus a non-smoking policy provides a comfortable environment for everyone.
Mittagong Markets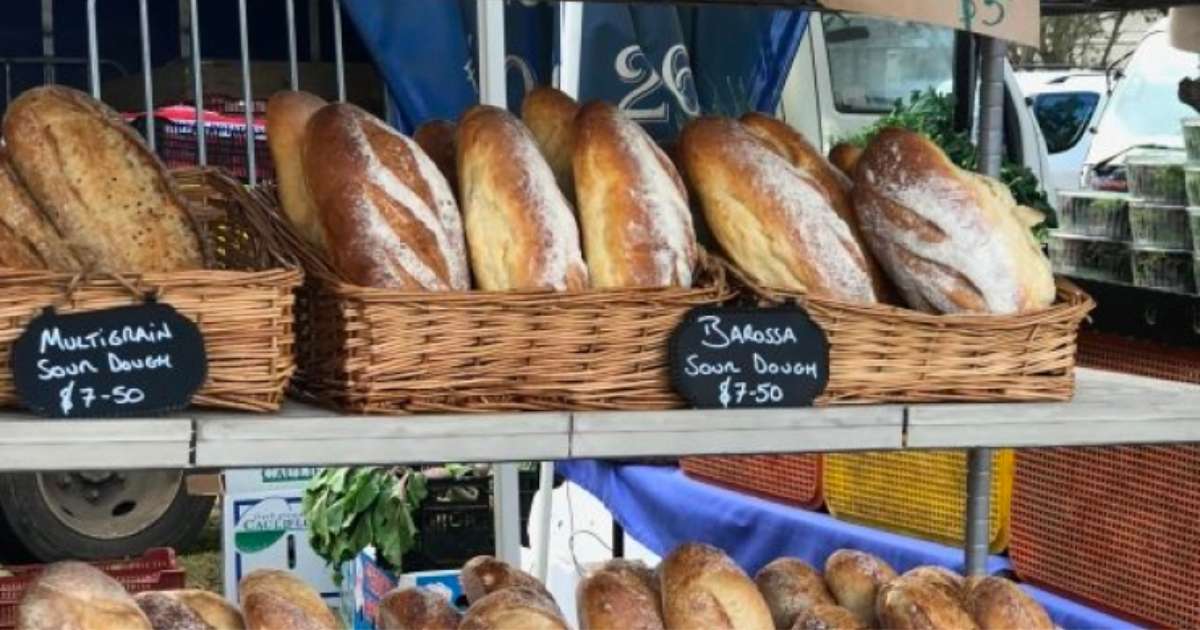 source: (thefoldsouthernhighlands.com.au)
With its welcoming community and diverse products, the Mittagong Markets promises an enjoyable experience for all. Discover one-of-a-kind wood products, children's clothes, jewellery, pet products, and local salami goods as you explore the beauty of the Southern Highlands.
One of the key highlights of the Mittagong Markets is its accessibility. The market grounds provide ample parking with easy access for individuals with mobility issues. You can also bring your four-legged friends to the market and treat them to a wide range of dog-related products.
See more: Kangaroo Valley & Southern Highland Events
Explore the markets Southern Highlands in Style
The Southern Highlands is renowned for its markets, showcasing the region's creativity, talent, and passion. From the popular Kangaroo Valley to the scenic and popular Bowral and Mittagong villages, each of these markets in the Southern Highlands has its unique flair and offerings. Visit any of them the next time you're in the Highlands and make your stay fun and unforgettable.