Spend your getaway exploring the beautiful waterfalls near kangaroo valley—a perfect place to go off the beaten trail and witness Australian hidden gems. Our list of best south coast waterfalls and swimming holes will provide hours of fun for the entire family.
Everything You Need To Know About Kangaroo Valley Waterfalls
Waterfalls in the Southern Highlands vary from height to depth but unite in their timeless beauty. With so many different hiking and outdoor experiences available, use this helpful list to narrow it down and make the most out of your Kangaroo Valley Escape. 
With the best local guides and our combined passion for unique holiday experiences, our list of Kangaroo Valley waterfalls will cover time to get there, picnic or food options, a general overview of the surrounding area, and the level of fitness required. 
Take the plunge and find out what awaits around every corner and the best water hole near your family's vacation paradise.
Find The Best Kangaroo Valley Waterfalls And Swimming Holes
A last-minute getaway or romantic retreat to Kangaroo Valley isn't complete without visiting one of our top 8 waterfalls and swimming holes. 
Fitzroy Falls
Located within Morton National Park, visit Fitzroy Falls between the hours of 9 am to 4 pm. Fitzroy Falls crest pools together at the top before spilling down, dropping 80m into a gorgeous rock formation, and then trickling into a flowing river.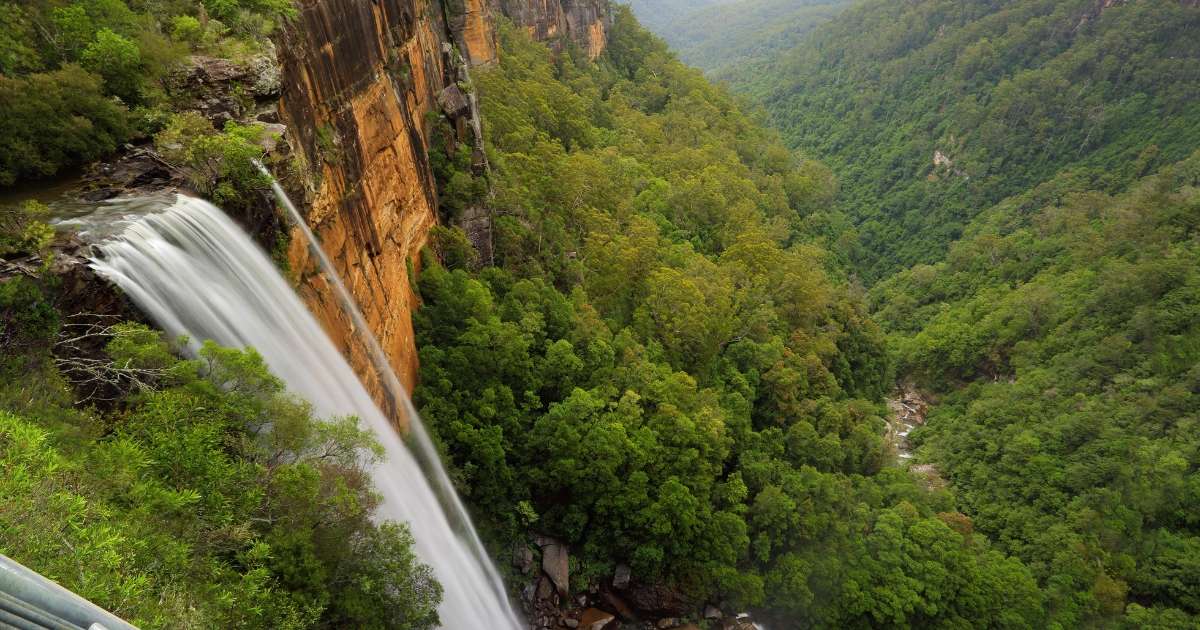 Due to its location in a National Park, a guided walk path looking up at fall will also provide an easy walking route. Guests have multiple safe points to look at the wondrous fall starting at the cliffside brink, near the visitors' centre. 
Several lookouts and different vantage points are available as you enjoy leisurely walking through the park. In previous years there was a path for swimming at Fitzroy Falls. Due to dangerous conditions and landslides, the track has now been blocked. Finish the afternoon adventure by eating lunch at the picnic centre or getting a souvenir from the gift shop.
Carrington Falls
Located within Budderoo National Park, Carrington Falls has three different lookouts for visitors to bask in its natural glory. 
Unlike other waterfalls on this list, you will be up close and personal with this natural beauty, so dress accordingly for a splash! Guests are truly in for a treat as they watch the Kangaroo River burst over this waterfall's crest. While you will have several places to get the perfect photo, we recommend just admiring the 50m drop as it plunges into a gully below in lush Australian green surroundings.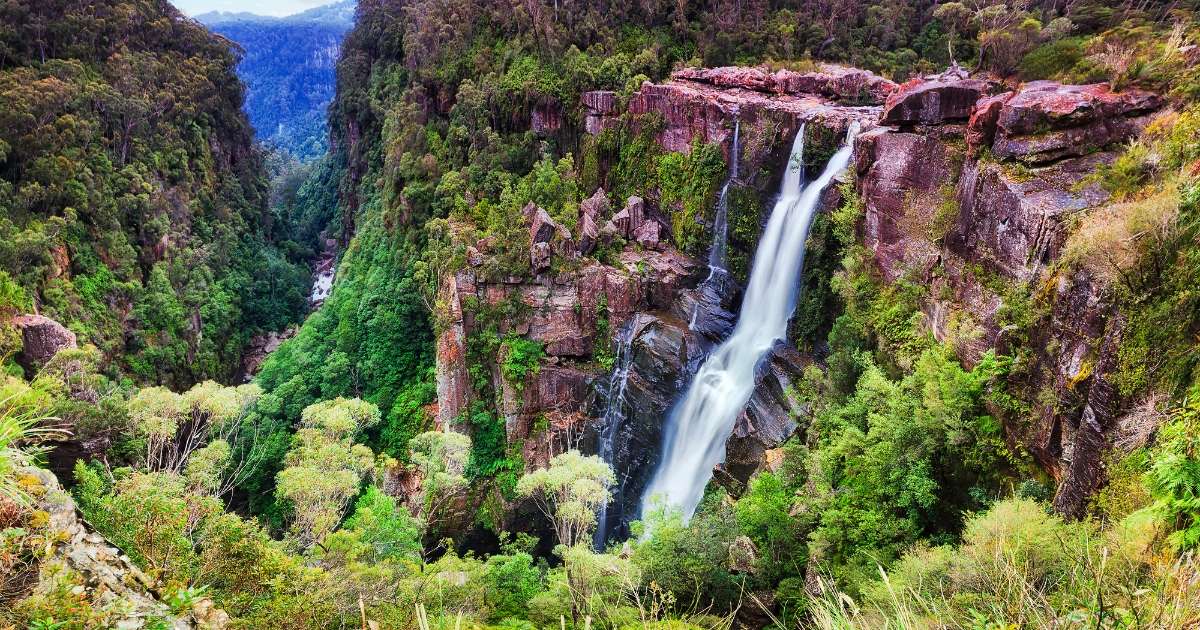 The big question on everyone's mind is how to get to the bottom of Carrington Falls. The good news is that old stairs are still available to the public brave enough to venture down. The bad news is it is hazardous. We recommend proceeding cautiously as this path is no longer maintained by the national park and can be risky regardless of weather conditions.
Belmore Falls
The beautiful Belmore experience will take a full day of walking and travelling to make sure you hit both lookouts and a secret swimming spot. Follow the signs when you enter the carpark, and the first lookout is a quick five minutes after parking, with the second following the same path for another ten minutes walking. 
While these lookouts don't take you up close to the waterfall, they will let you see the entire length of the tremendous splash and the two-tiered structure.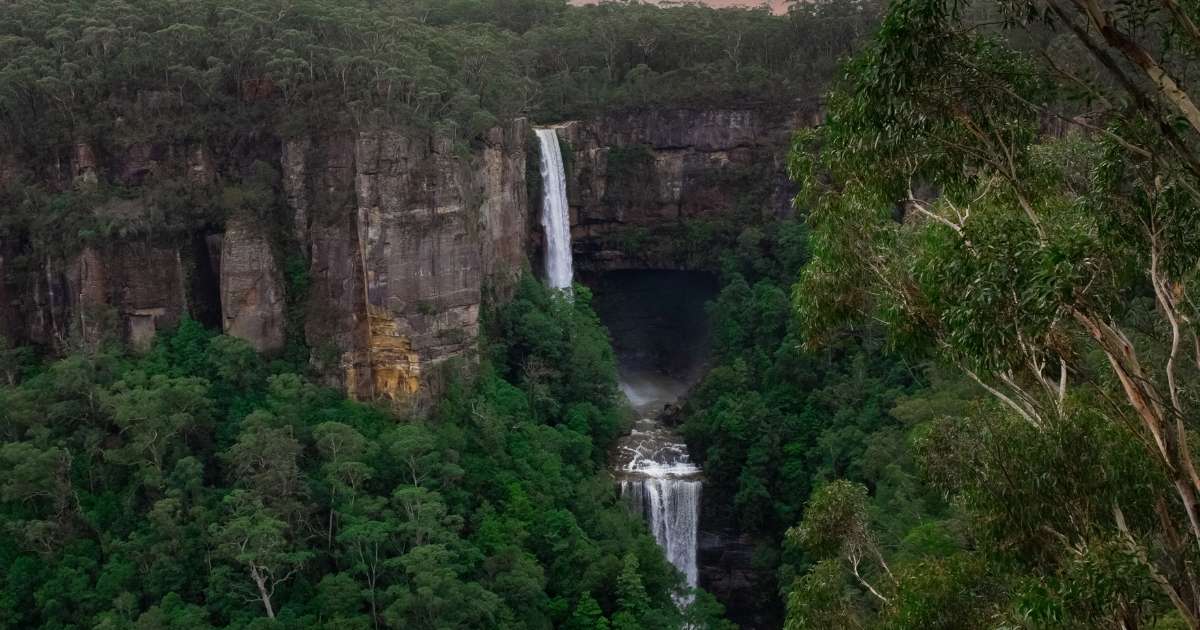 We also recommend checking out the Hindmarsh lookout, which doesn't stare at Belmore Falls but presents a stunning 360 view of Kangaroo Valley. To access the secret swimming spot, you must go to a second car park. It holds enough space for four cars and is on the side of Belmore Falls Road between the lookouts and the ford. 
This swimming hole has no signs leading the way, so you will be walking down an old path that may sometimes be overgrown or muddy but only about 300 m total. We do not recommend attempting to access after severe rain or mudslides.
Flat Rock Waterhole 
Flat Rock Kangaroo Valley is a 1.4-km out-and-back trail near Upper Kangaroo Valley. We recommend this route for experienced hikers and do not encourage beginner hikers to attempt it. It is usually unpopulated and quiet, making it an excellent spot for a brisk bit of exercise followed by a refreshing swim. 
If you are traveling to Kangaroo Valley with your four-legged family friends, they will have to sit this one out as the trail is not suitable or safe for dogs.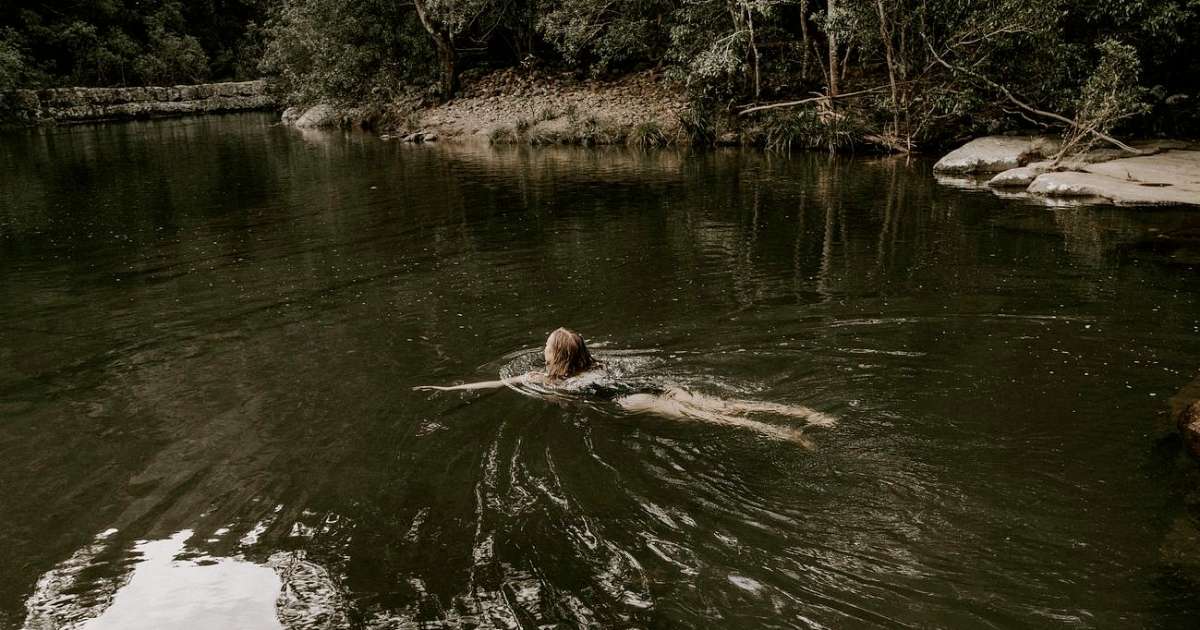 The path leading to Flat Rock is not well marked, and guests should prepare to be in the thick of bush country and, at times, walking up creek. Bring appropriate footwear and clothing for the hike in and out. On average, experienced hikers will take 35 minutes to complete the route. 
Feel free to pack a lunch and bring a blanket to relax but leave the environment the same as you found it and remove all trash and belongings.
Jump Rock at Macquarie Pass
On a hot day, there's nowhere better than Jump Rock at Macquarie Pass, but you'll need to get there early to secure parking. We recommend making it a fun group activity and packing a lunch to get the most out of your day. 
Jump Rock includes three other places to cool down along the path, but proceed with caution. While this location and swimming hole are popular, it is still not a publicly maintained site. Hikers and swimmers should wear appropriate clothing and stay alert for leeches or pack salt as a precaution. The path will sometimes involve climbing, but the majestic trees and surrounding nature are sure to take your breath away. 
If you don't feel up for the climb or the swimming hole, veer slightly off course and discover a vast green field with a flowing river. Picturesque for social media or a quick outing during a family vacation.
Gerringong Falls
Gerringong Falls is one of the most advanced trails on our list. We only recommend this waterfall experience for experienced hikers as the long path will take you down rocks and steep cliff fronts.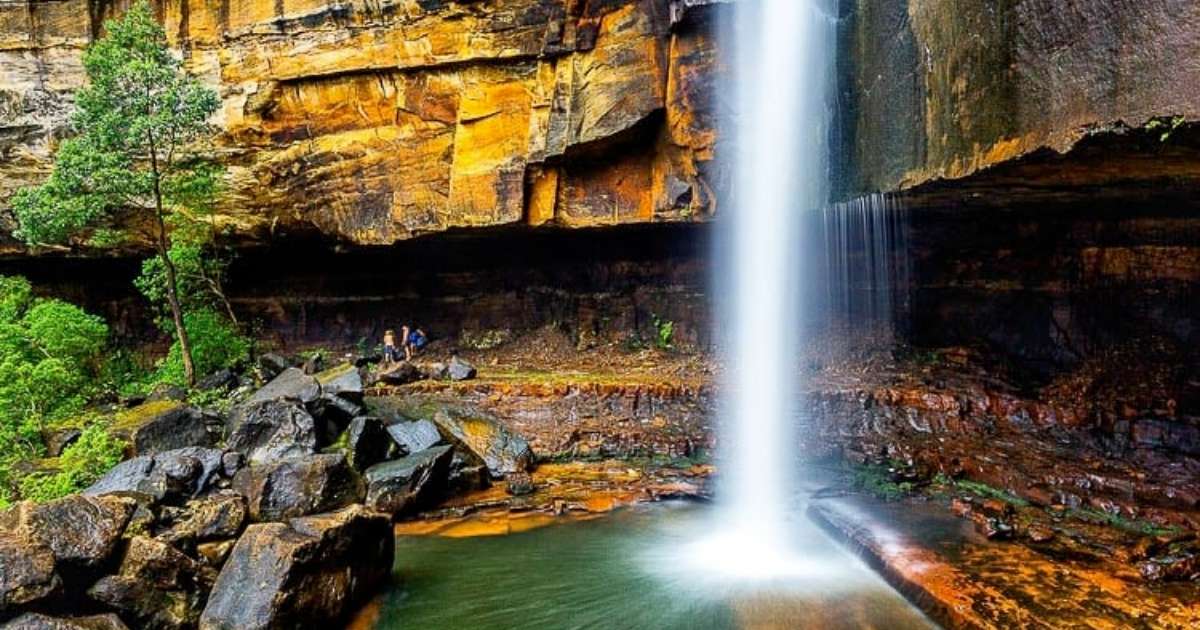 The total estimated time for this experience is 6 hours, and we also encourage you to download images of the trail or offline maps to stay on track. Plan your day accordingly, so you are not on the trail at night as the total length is 17km walk plus the steep 1km track down to the base of the falls. 
A secondary option is walking along the top of the falls, which will not involve any swimming but is a leisurely nature stroll. 
Fairy Bower Bundanoon Falls 
This nature Kangaroo Valley waterfall will make you believe in magic, and eco-warriors will feel transported to a delicate and ethereal landscape. 
This trail is suitable for all levels of hikers, and in total, runs 2.4km. When you first begin the hike, the trail is well-maintained and broad, so you are not walking along the cliffside. Eventually, you will come to man-made stairs built over rocks and include handrails to help descend. 
The closer you get to the falls, the narrower the path. While it is still safe, and we recommend checking it out with flashlights and bug repellent at night, it may feel slightly more treacherous the closer you get to the payoff. The woods will open, and the sight of a fairy bower covered with moss rocks and light streaming through trees will make you fall in love with the New South Wales backyard. 
Nellies Glen
Nellies Glen is an easily accessed waterhole suitable for the whole family and very close to Carrington Falls in Budderoo National Park. 
On-site, everything is well labelled with signage outside and within the park to direct you. We advise guests the right side of Nellies Glen is more shallow than the left, but there are no flat areas or rocks in the watering hole to sit with toddlers or young children. Please keep an eye on the sky, as the park also boasts the unique bower bird. 
While Nellies Glen is an absolute must for families to discover, it's perfect for students or solo travellers looking for a great lunch spot and has a full picnic area with free entrance. Budderoo National Park is close to several towns, and families can pick up takeaway instead of pre-packing for lunch.
More Recommendations For Unique Kangaroo Valley Nature Activities
While waterfalls and swimming holes are fun to explore, they might not be the best activity for everyone. Kangaroo Valley Escapes works with several outdoor adventure services and can provide itineraries to Kangaroo Valley waterfalls, hiking trails, canoeing, kayaking, or hidden local gems we've yet to mention. From half to full day or overnight trips, we can give you as much time on or off the water as you desire. 
Work with our team to plan the holiday of your dreams and be blown away by everything Kangaroo Valley; New South Wales has to offer.
See more: Things to do in Kangaroo Valley