With its rolling hills, lush bushes, and several trails, Kangaroo Valley is a hiker's paradise. Whether you're a local or visiting the valley, you can join the friendly outdoor enthusiasts to explore Kangaroo Valley's hiking trails.
In this guide, we'll take you through the best trails to wander on foot, offering a taste of nature you won't forget. Keep reading to learn more about the various terrains, their length, hiking difficulty, and estimated hiking time.
Kangaroo Valley Loop
This is perhaps one of the most popular Kangaroo Valley hiking trails common among experienced hikers, campers, and backpackers.
The loop is 42.8 km long, and it goes through varied terrains, which takes close to 12 hours to complete. This hike is a test of endurance, and you'll need to camp or rest along the way.
Some of the camping areas include the Griffin's Farm and the Gale's Flat. Along the way, you'll explore the Eucalypt Forest, catch stunning views near Fitzroy Falls, and immerse yourself in thick forests and lush bushland. You can start from any point along this looped trail, and you'll enjoy that same hiking experience. It's worth noting that dogs are not allowed on this trail.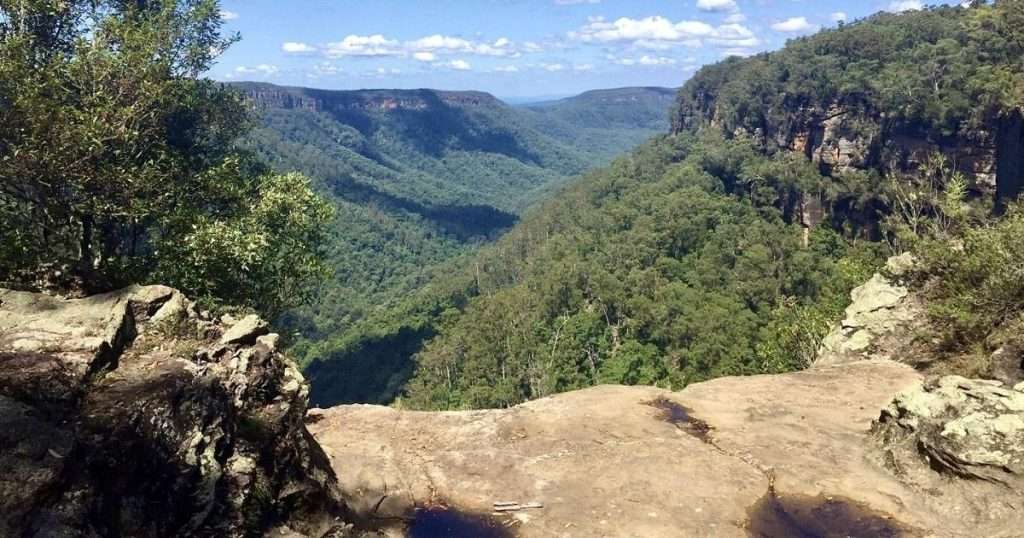 Difficulty level: Hard
Distance: 42.8 KM
Estimated completion time: 12 hours
Three Views Walking Tracks
The Three Views Trail, nestled in Morton National Park, unveils three distinct hiking paths with incredible views.
The first trail is the Lake Yarrunga View, an easy 3.4 km stroll offering serene lake panoramas in just 1 hour and 10 minutes. The other one is the Tallowa Dam View, a short, level track perfect for most hikers. In about 1 hour 20 minutes, you'll have completed the 4 km round trip.
If you are in for a more challenging trail, the Shoalhaven River View, a 5.7 km round trip, would be your ideal pick. This trail requires some reasonable fitness levels and takes around 2 hours to complete the return trip.
Whether you're into shorter walks or prefer a full-day exploration within the three views walking trails, don't forget to carry your camera and plenty of water. This hike takes you through open woodlands, bushlands, and even the Moolatoo Trig fire trails, offering delightful picnic spots.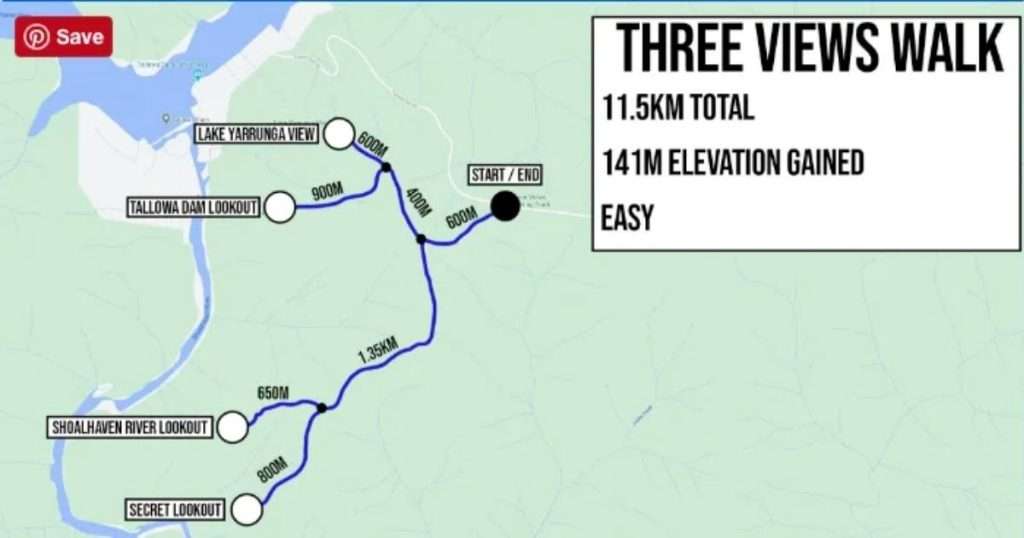 source: walkmyworld.com
Difficulty Level: Easy and Medium
Length: (Total distance is around 12 KM). Shorter walks take less than one hour 30 minutes. The medium trail takes 2 hours.
Kangaroo River Walking Tracks
The Kangaroo River walking track is a 7-kilometre hiking journey within the Morton National Park. This is a grade-four hike that offers a perfect balance of challenge and relaxation. The walk takes around three hours and thirty minutes to complete.
As you hike through the trail, you get to enjoy bird watching as you reconnect with nature. You can also cast a line for some leisurely fishing. If hiking in the morning hours, you can pack a picnic lunch and sunscreen on the sunnier days. Entry fees to the park apply at Fitzroy Falls, so keep that in mind as you prepare for this hike.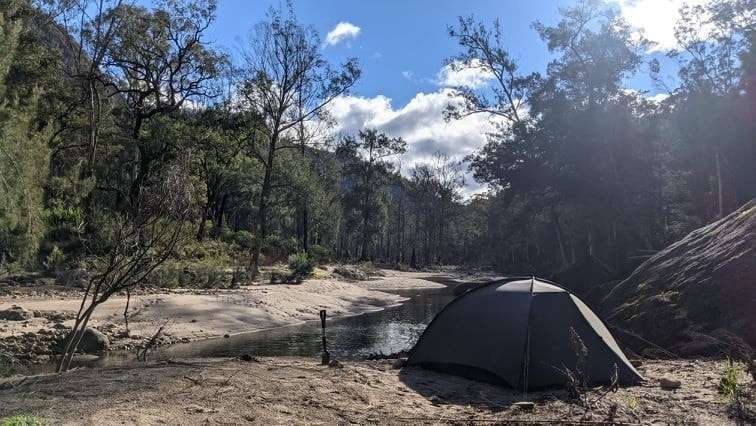 Difficulty Level: Intermediate
Length: 7 KM
Duration: 3 hours 30 minutes
Yarrunga Lookout Hikes (via McPhails, Promised Land, and Surge Tank)
The Yarrunga Lookout Hike is one of the Kangaroo Valley hiking trails located in Morton National Park near Bendeela in New South Wales. This 16.3 km hiking trail is a favourite among hikers, bird enthusiasts, and nature lovers. The hike takes about 5 hours and 15 minutes to complete.
As you walk through this trail, you'll admire the scenic views from the wildflowers and the lush forests to the wildlife sightings. Please note that dogs are not allowed along this trail.

Difficult Level: Hard
Distance: 16.3 kilometre
Estimated time: 5 hours 15 minutes
Hampden Bridge Bush Loop
The Hampden Bridge Bush Loop is a leisurely 2.4-kilometre route that takes around 40 minutes from start to finish. Whether you're a backpacker, a casual stroller, or a hiker, this easy trail is perfect for all.
The best part is that you can bring your furry friend along, and they might even be off-leash at some point. You will begin your journey at the Hampden Bridge car park, heading down to the riverside, where you can swim and have some fun on the sandy beach.
And while some parts might lack clear markers, the adventure is worth it, with potential wildlife encounters, especially kangaroos, birds, and wombats. Don't forget your map and a sense of curiosity for this unique and scenic walk.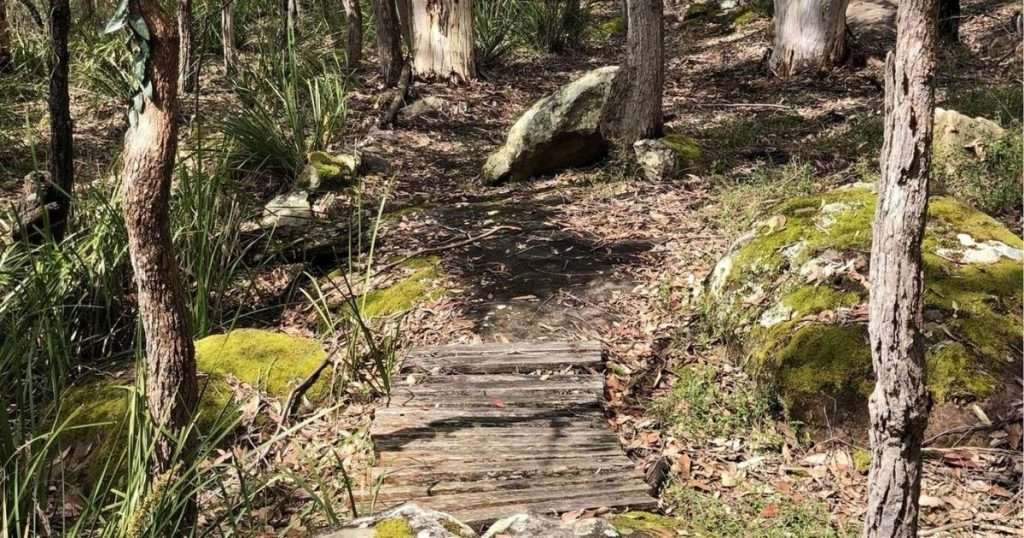 Difficulty Level: Easy
Distance: 2.4 KM
Duration: 40 minutes
Hiking with Valley Outdoors
If you are new to Kangaroo Valley or it's your first time hiking the area, you can join the Valley Outdoors for an incredible Kangaroo Valley adventure. Here, you will explore the villages, engage with friendly locals, capture beautiful moments, and make new friends.
Hiking with the Valley Outdoors is perfect for beginners and experienced hikers alike. You will interact with professional guides who will provide outdoor education, bushwalking skills, and support. This is a great way to discover Kangaroo Valley villages, hiking trails, and nature in the company of outdoor enthusiasts like you.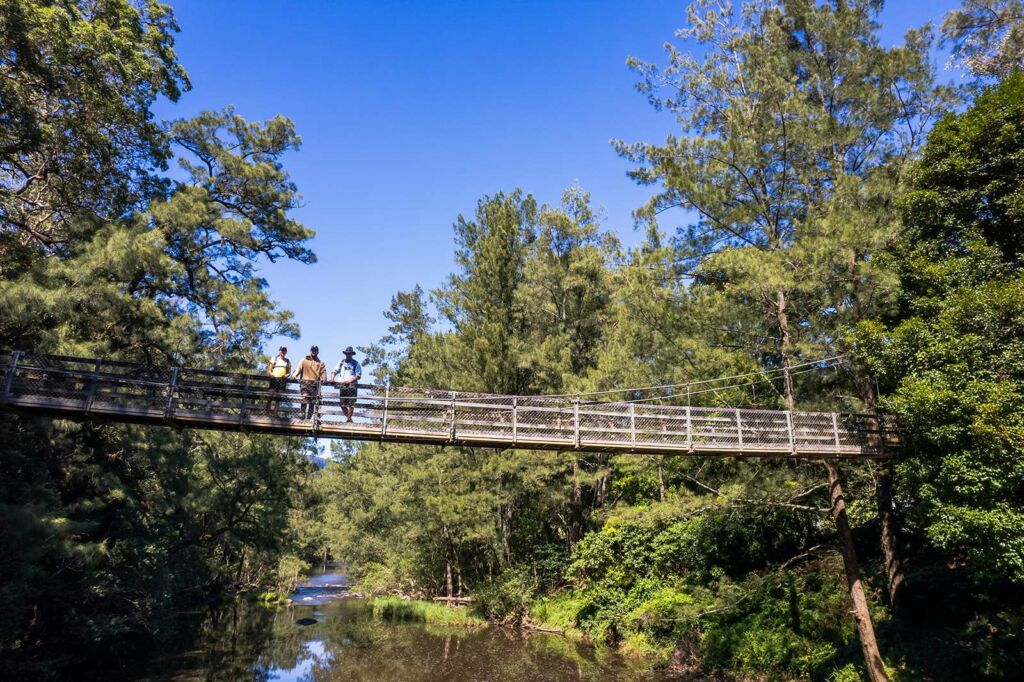 Difficulty Level: Easy
Estimated time: All-day adventure
Stay and Explore Kangaroo Valley with Us!
When it comes to exploring the Kangaroo Valley hiking trails, there are several trails to choose from and places to discover. If you are visiting the valley for a weekend or holiday, you want to join the Valley Outdoors for personalized and guided hikes of the nearby areas.
You can also check out some Kangaroo Valley accommodation managed by the Kangaroo Valley Escapes.
That way, you'll enjoy the convenience of accessing several attraction sites without travelling far from the village.