Embrace the natural wonder found within New South Wales through our canoeing and kayaking guide to Kangaroo Valley. The multitude of lakes running through our valley range from beginner to intermediate. Choose the current best suited to your vacation holiday, and paddle through bliss, making memories to last a lifetime.
Discover Our Canoeing And Kayaking Guide To Kangaroo Valley
Grip your paddle, and cut through the numerous water trails, and explore Kangaroo Valley through a new lens. 
In New South Wales, we are lucky to hold several scenic and flat-water paddle routes fit for families, friends, or lovers. From an easy half-day that gets you back in time for dinner reservations to ambitious and adventurous overnight excursions, the breathtaking rivers and gorges filling Kangaroo Valley guarantee to thrill and motivate various travellers. 
Choose from pre-designed trails with Kangaroo Valley Adventure Co, or speak to our team and design a unique, one-of-a-kind experience. We continue to work with Valley Outdoors for their leadership and attention to safety regulations. We believe this partnership continues to bring peace of mind to our shared services. 
Prepare to embark and witness the crest of waterfalls of the majestic sandstone cliffs. Nature is calling, and we guarantee this ballad will bring a new level of harmony to your typically hectic and busy schedule.
Valley Outdoors Canoeing in Kangaroo Valley Guildes
Kangaroo Valley Escapes has partnered with Valley Outdoors to create immersive and personalised activities on the rivers and lakes flowing through our gorgeous backyard wilderness. Depending on your skill-set and availability, please find the best tour for you in our canoeing and kayaking guide in kangaroo valley.
Half-Day Packages
A half-day tour with Valley Outdoors will last four hours. The experience includes a PFD (life jacket), correct length paddle, and a Canadian-style canoe with a recognizable wider beam and distinguished higher freeboard. The Canadian-style canoe will come with comfortable seat-boards to ensure guests feel secure floating along the river. 
The half-day tour does not include lunch, and we encourage guests to pack snacks before embarking on their journey. No prior experience is needed, and the tour works best for couples or groups of 4 or more.
Full-Day Packages
A full-day Valley Outdoors adventure canoe trip lasts approximately 8 hours and is made for individuals 12 and older. Similar to the half-day option, all participants will receive a PFD (life jacket), correct length paddle, and use a Canadian-style canoe. 
This full-day adventure does not include lunch, and if you pack a picnic, please be mindful not to leave any trash behind. Please ask us how Kangaroo Valley Escapes can plan a meal to go that we can drop off at your accommodation before your tour departure. 
Canoe Hire Full-Day Tallowa Dam
The full-day Tallowa Dam tour explores Kangaroo Valley lakes and is accompanied by mesmerising scenery. Guests can book this canoe hire service as a deluxe or upgraded premium package and receive a laminated route map with helpful landmarks and coordinates. Any level of canoe experience is approved, and for additional peace of mind, add an experienced guide to make all members of your family feel at ease. 
Canoe Hire Half-Day Tallowa Dam
The half-day Tallowa Dam explores Kangaroo Valley canoe lake paths and packs a memorable experience in 4 hours. Available as a deluxe or premium package, this is a canoe hire service, and guests will receive a laminated map of the path, plus tours of Tallowa Dam Picnic Area and Shoalhaven Gorge. Tours are limited to weather conditions and suitable for all ages. 
Canoe Hire Full-Day Bendeela Recreation Area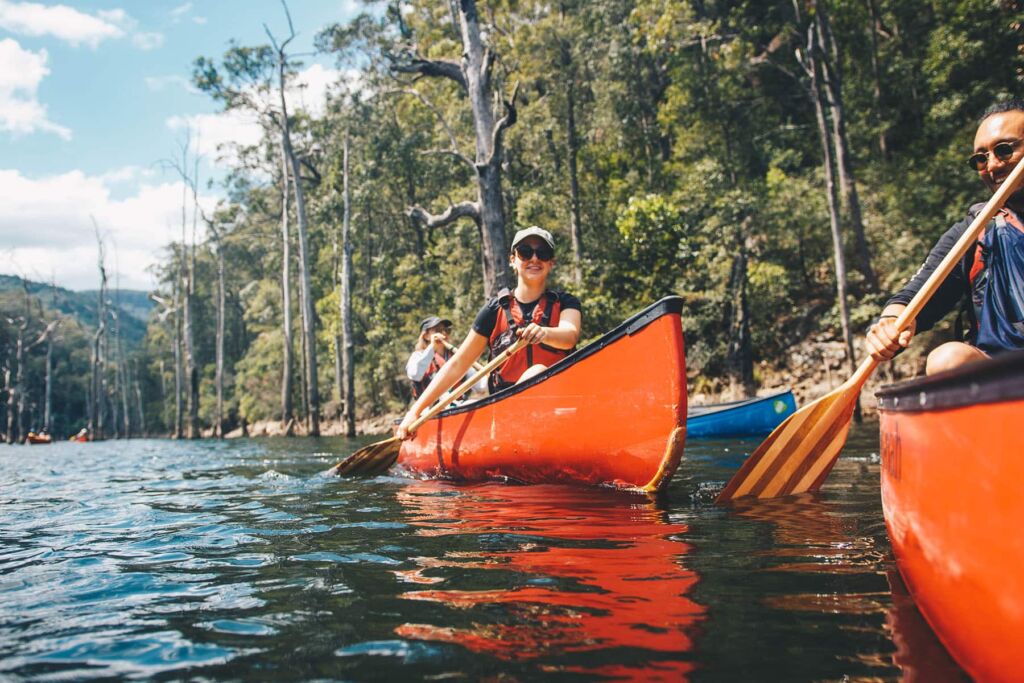 A family-friendly experience, this canoe-for-hire full-day tour partners with Paddle and Portage Canoes. 
Guests can experience the leisure and comfort found within Australia's only importer of Wenonah and Silverbirch Canoes. This tour circles the beautiful Bendeela Recreation Area and lasts 8 hours. Please let our team know if you are comfortable with rapids or would prefer a path without them. 
Canoe Hire Half-Day Bendeela Recreation Area
If you are travelling with your children, we suggest the half-day Bendeela Recreation canoe for hire tour. 
Over 4 hours, you'll explore the park and witness local wildlife, including eastern water dragons, lace monitors, and wombats. Wave from your canoe to fellow families embracing the Bendeela campgrounds, and let us know if we can tailor your accommodation to include a night under the stars. 
Kangaroo Valley Kayaking
Kayaking is an exciting way to cut through the rivers of kangaroo valley. Partnering with Paddle and Portage Canoes, Kangaroo Valley is excited to offer six kayak styles suitable for one or two passengers. Every member of Paddle and Portage team believes are passionate leaders, educators, facilitators, guides, instructors, and technicians who live and breathe an outdoor lifestyle and are eager to share their knowledge and skills for kayaking in Kangaroo Valley.
How To Kayak In Kangaroo Valley
Kangaroo Valley Escapes is thrilled to encourage your family while trying something new. Canoeing or kayaking in Kangaroo Valley is an excellent place for memories to begin and is easily repeated for years. Embrace the New South Wales vibrant wildlife aboard the Kangaroo Valley and speak to us about how you can plan a multi-day kayaking voyage in kangaroo valley. 
Kayaking adventures in Kangaroo Valley
Kangaroo Valley Kayaks
Kangaroo Valley Kayaks, a captivating canoeing and kayaking in Kangaroo Valley destination nestled near Hampden Bridge, just 2 hours south of Sydney. Kangaroo Valley Kayaks offer the tour from the Kangaroo River, Lake Yarrunga, and Tallowa Dam on day trips, overnight stays, or multiday adventures. Experienced guides ensure safety while you immerse yourself in the stunning landscapes of NSW's South Coast and Southern Highlands. An unforgettable experience for nature enthusiasts awaits!
Address:
5 Moss Vale Rd, Kangaroo Valley NSW 2577
Kangaroo Valley Safaris
Enjoy a Canoe or Kayak Adventure. Kangaroo Valley Safaris, the leaders in Self Guided Eco Safaris. Half Day, Full Day and Multi Day Canoe / Kayak Camping Trips.
Shop and office for day hire:
2031 Moss Vale Rd Kangaroo Valley 2577
Kangaroo Valley Adventure Company
They offer kayaking trips from the Hampden Bridge down to Bendeela camping ground, along with Upper River kayaking adventures for the more experienced, given appropriate river conditions
Address:
110 Moss Vale Rd, Kangaroo Valley NSW 2577
More Recommendations For Activities In Kangaroo Valley
While canoeing or kayaking might not be the best option for everyone, Kangaroo Valley Escapes also provides a detailed guide on the best waterfalls and swimming holes in the area. Tailor your trip to as much time on land or water as you need and leave the rest to us. Are you interested in staying on the ground all day? Check out our guide on the best winery tours in Kangaroo Valley or book accommodation perfect for the rest you crave. 
The canoeing and kayaking guide in Kangaroo Valley is proud to partner with local businesses passionate about revealing the slice of New South Wales beauty.
FAQ Kayaking & Canoeing in Kangaroo Valley
Where to kayak and canoe in Kangaroo Valley
In Kangaroo Valley, you can kayak on the Kangaroo River, Lake Yarrunga and Tallowa Dam, which offers picturesque and serene paddling experiences amidst stunning natural surroundings.
What is the difference between Kayaking and Canoeing
Kayaking uses narrow boats with a double-bladed paddle, while canoeing uses wider open boats with a single-bladed paddle. Kayaking is more technical and has a closed cockpit, while canoeing is more relaxed and open.
How long will it take to kayaking and canoeing in Kangaroo Valley
The duration for kayaking and canoeing in Kangaroo Valley varies depending on the tour package you choose. It can range from a half-day tour of approximately 4 hours to a full-day adventure lasting around 8 hours. There are also options for multi-day kayaking voyages if you wish to extend your experience.
See more:
Things to do in Kangaroo Valley