Taking a day or two off to rejuvenate in nature is a great way to unplug from the busy city life. If you are a resident of Sydney or visiting the city and would love to be part of a private tour of the renowned Kangaroo Valley, you are in for an unforgettable experience.
During this 10-hour gateway into the heart of NSW, you'll encounter iconic Australian attractions, including the majestic Fitzroy Falls, the Nan Tien Temple, the Hampden Bridge, and more.
Whether you're travelling with friends or going solo, the Sydney to Kangaroo Valley trip offers convenient pick-up services and mobile tickets for a seamless experience.
How Far is it From Sydney to Kangaroo Valley?

Kangaroo Valley is located 157 km south of Sydney, a 2-hour drive via the Hume Motorway. The private day tour to this village will take around 10 hours, and you'll get a chance to experience Kangaroo Valley in a fun and memorable way. If you are new to Kangaroo Valley, you'll love the region's serene landscapes and cultural landmarks, which attract thousands of tourists every year.
How to Get to Kangaroo Valley by Public Transport
When travelling from Sydney to Kangaroo Valley, combining a train and a bus is often the most convenient option. The train journey from Sydney's Central Station ends at Moss Vale, followed by a transfer to the 810 bus to Kangaroo Valley. As there are some stops enroute on the way you come by Publish transport, it is easier for you to follow Google Transport schedule which included all public transportation you need to follow.
Visit Kangaroo Valley from Sydney by Car
Travelling by car is the fastest way to get to Kangaroo Valley, taking only 2 hours. This road trip is a scenic delight, so if you have some time for stopovers, you may want to take pictures along the way. You'll enjoy views of breathtaking landscapes winding through lush valleys, forests, and countryside. This is a fun and picturesque journey, with plenty to see and explore.

Beautiful Stops on the Way to Kangaroo Valley
As noted earlier, the trip from Sydney to Kangaroo Valley involves a couple of stopovers where you can reconnect with nature and pause to capture memorable moments. Most of the attraction sites below have no entry fees, except Fitzroy Falls and the Kangaroo Valley Pioneer Village Museum.
Fitzroy Falls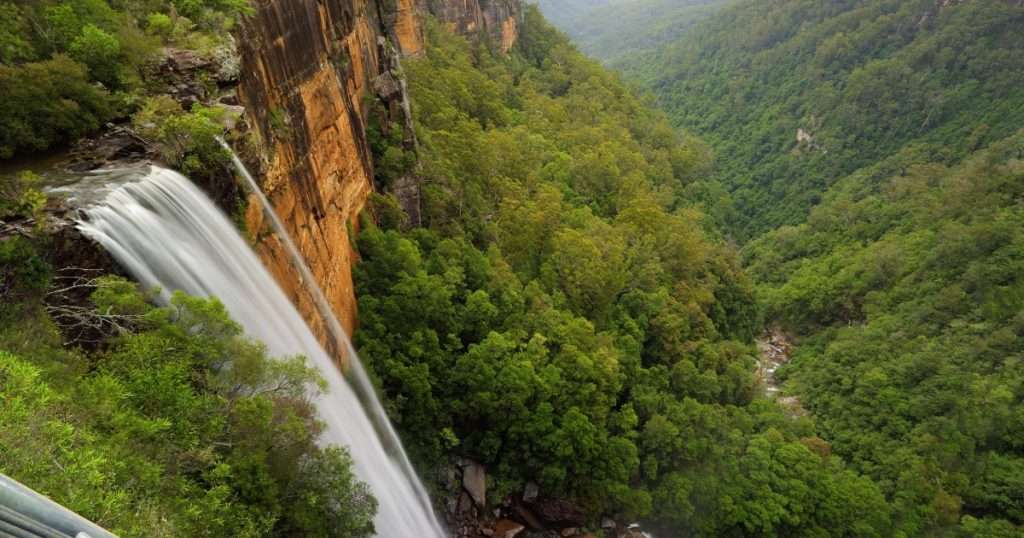 This is a giant waterfall that lunges over 80 meters into a picturesque valley. It's located between Robertson and Nowra in the Southern Isles. You'll pause here for about 30 minutes, immersing yourself in the beauty and magic this region has to offer. While at this spot, you'll admire the lush escarpment, snap photos, and treasure the moment before proceeding with the journey. The entry fees to Fitzroy Falls are included in the tour package.
Hampden Bridge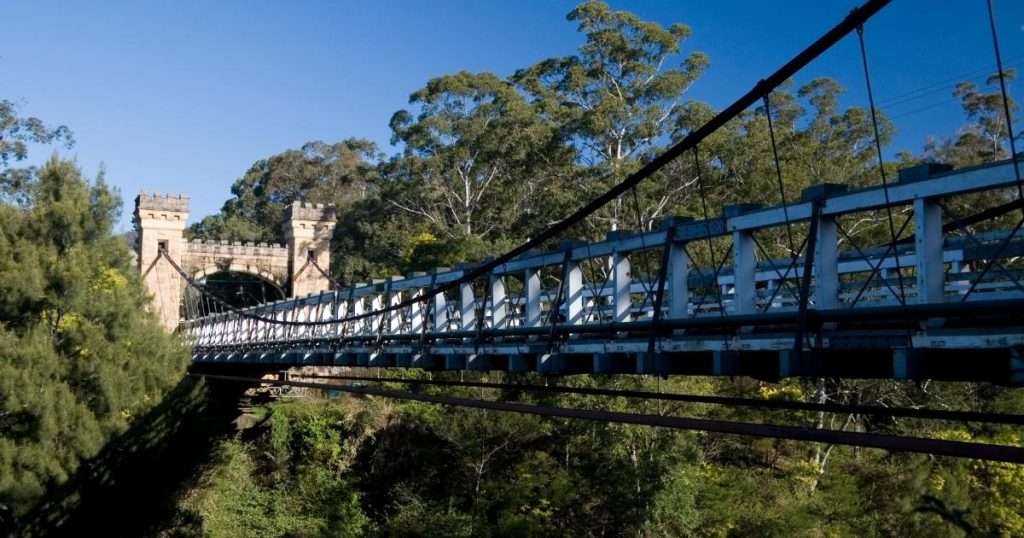 The Hampden Bridge is a magnificent suspension bridge over the Kangaroo River. Admission is free, and you'll have about 15 minutes to marvel at this scenic spot. Whether you love suspension bridges or you've got bridge fears, our professional guides will be there to help if need be. This is one of the incredible spots to capture moments for your Insta stories.
Nan Tien Temple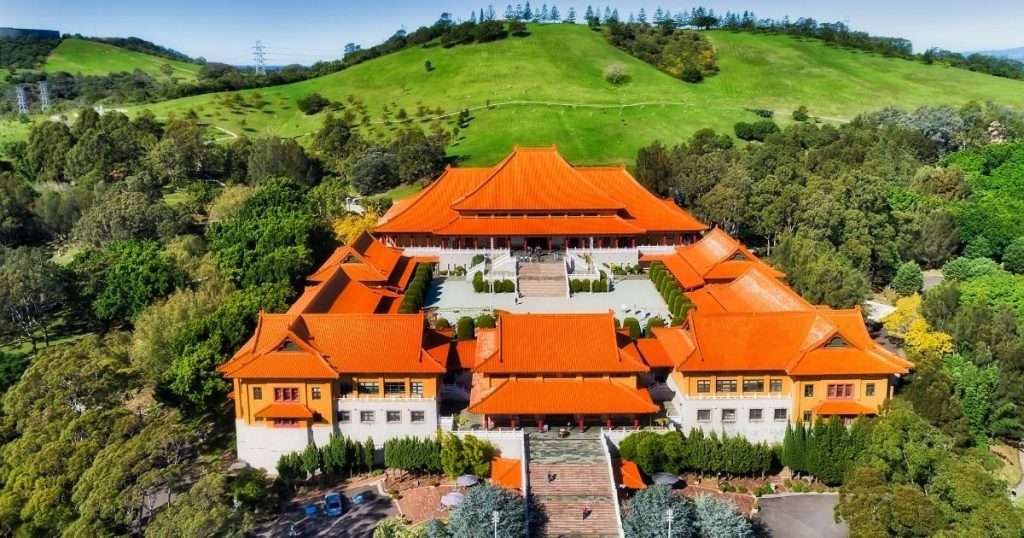 During the trip, a 30-minute stopover at the Nan Tien Temple promises serenity and cultural enrichment. You'll have a chance to explore this stunning Buddhist temple renowned for its intricate architecture and tranquil surroundings.
If you wish to, you'll have the opportunity to stroll through the gardens, learn about Buddhist traditions, and perhaps engage in a moment of meditation. Every minute spent here is a remarkable pause that adds meaning and depth to your journey.
Kiama Blowhole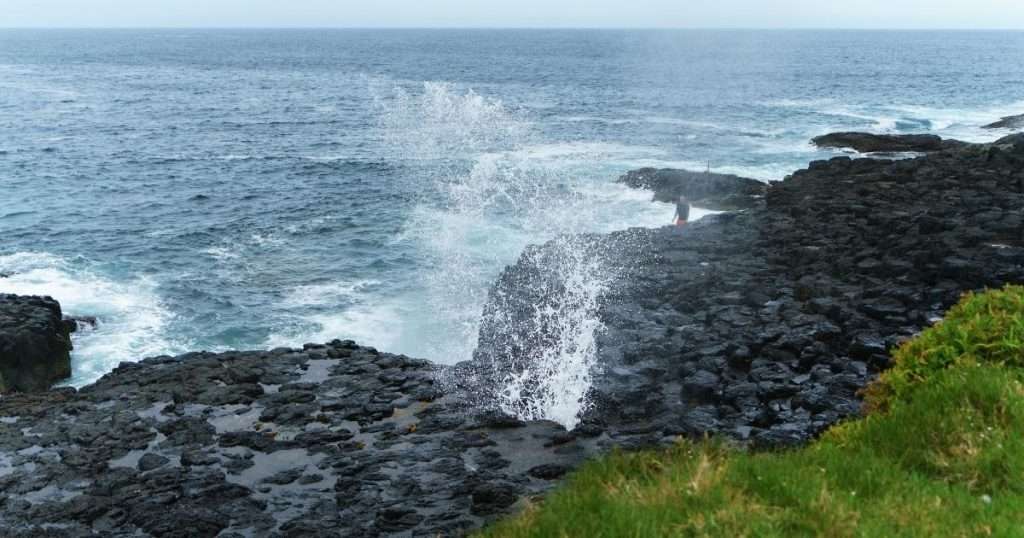 One of the must-stop locations during the trip is the Kiama Blowhole, found in the coastal town of Kiama near Kangaroo Valley. This natural wonder shoots seawater high into the air and is a popular tourist attraction.
You will spend 15 minutes here where you can soak in the coastal vibes and make the most of your time by snapping photos or simply immersing yourself in the moment.
Kangaroo Valley Pioneer Village Museum
The Kangaroo Valley Pioneer Village Museum is a living history museum located in Kangaroo Valley. This museum is designed to take you back in time, showcasing the region's history through various preserved buildings, artifacts, and interactive displays.
Visitors can explore ancient life historical collections and get a chance to experience the culture of the Kangaroo locals. If you are interested in history and heritage, this is a great place to be. You'll spend an hour in this museum, exploring the region's rich history.
Where to Stay in Kangaroo Valley?
After a long day of travel and adventure, you want to book an ideal Kangaroo Valley accommodation that offers the comfort and peace of mind you truly deserve.
At Kangaroo Valley Escape Accommodation, you'll have the flexibility to choose the right accommodation for your needs. Whether you want a luxury apartment or a modern cottage, your accommodation needs will be taken care of with the utmost professionalism. Most homes managed by the Kangaroo Valley Escapes are located within the village, providing a perfect base for further exploration, whether it's hiking or taking on new adventures.
See more: Visit Kangaroo Valley