Nested between New South Wales and the Southern Highlands is the historic town of Kangaroo Valley. This part of NSW has everything from scenic bush walks and eye-catching waterfalls to serene accommodations. It's considered one of the most visited towns in the region and a hidden gem frequently explored by nature lovers.
If you are planning to visit Kangaroo Valley and looking for luxury Kangaroo Valley accommodation with pool, you are in the right place. Below is a detailed list of the best places to choose for a comfortable stay
Our luxury Kangaroo Valley accommodation with pool
At Kangaroo Valley Escapes, we make it easy for travelling families, couples and individuals to find the best accommodation for their vacation, retreat or holiday needs. Here are some of the best luxury Kangaroo Valley accommodations with a pool and other high-end amenities:
Paddington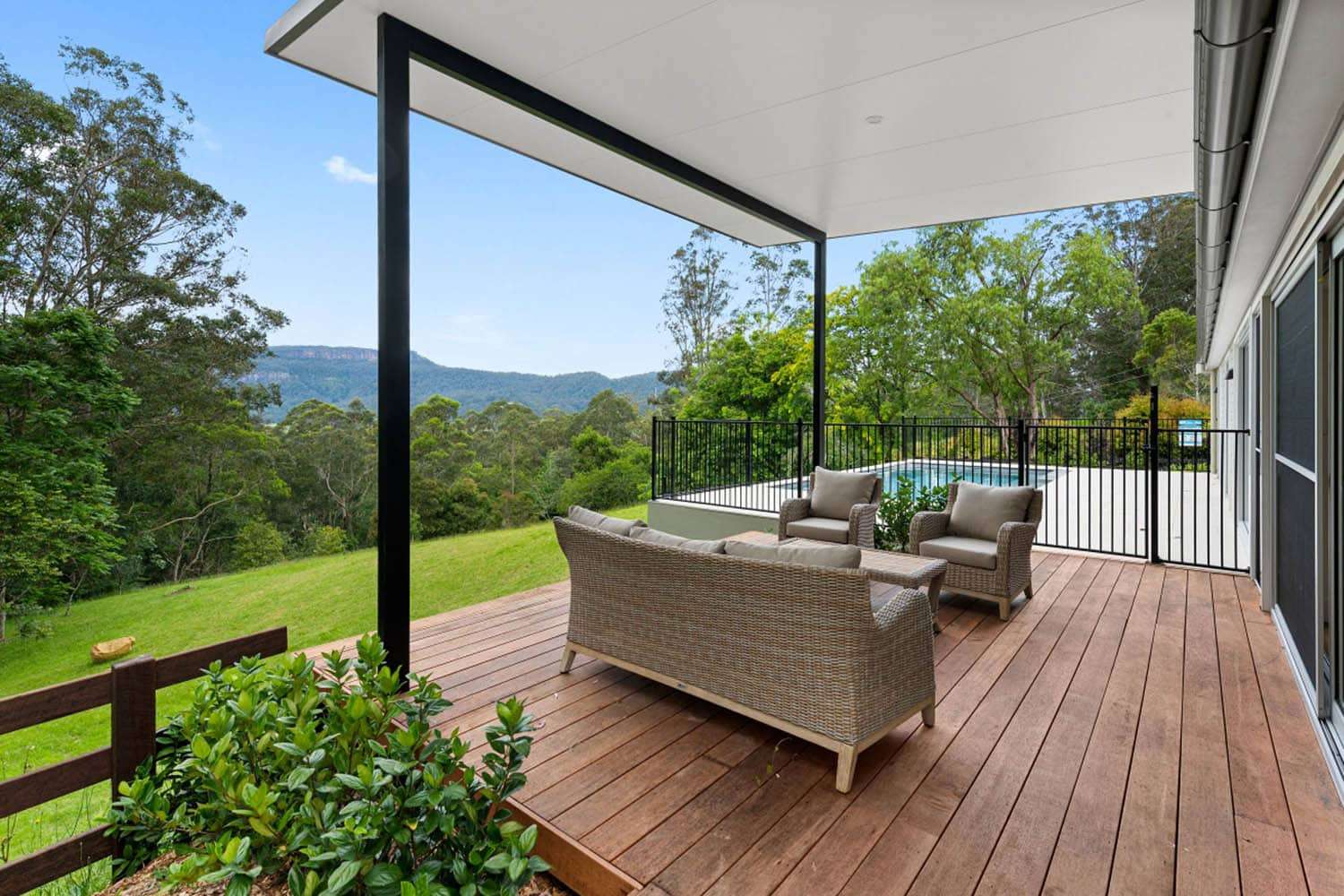 Paddington is an exquisite holiday home that was recently renovated to offer guests a magical weekend, vacation or retreat. It is situated 10 minutes from the Kangaroo Valley village and offers eye-catching views of the escarpment. The home features two queen-sized bedrooms, one double bedroom, and a main bathroom with a shower and a gorgeous free-standing bath.
The main suite has its ensuite shower room, while the lounge/dining area and kitchen offer a cozy spot to relax and enjoy views of the greater outdoors. The kitchen is modern and equipped with all the appliances you can think of, from a coffee machine to a microwave and SMEG oven. There's also a decked entertaining area overlooking the pool and a garden with beautiful Macadamia trees. Guests can also enjoy the new swimming pool and BBQ, but Paddington isn't suitable for children under 10, unlike the other homes on this list.
Kookaburra Hill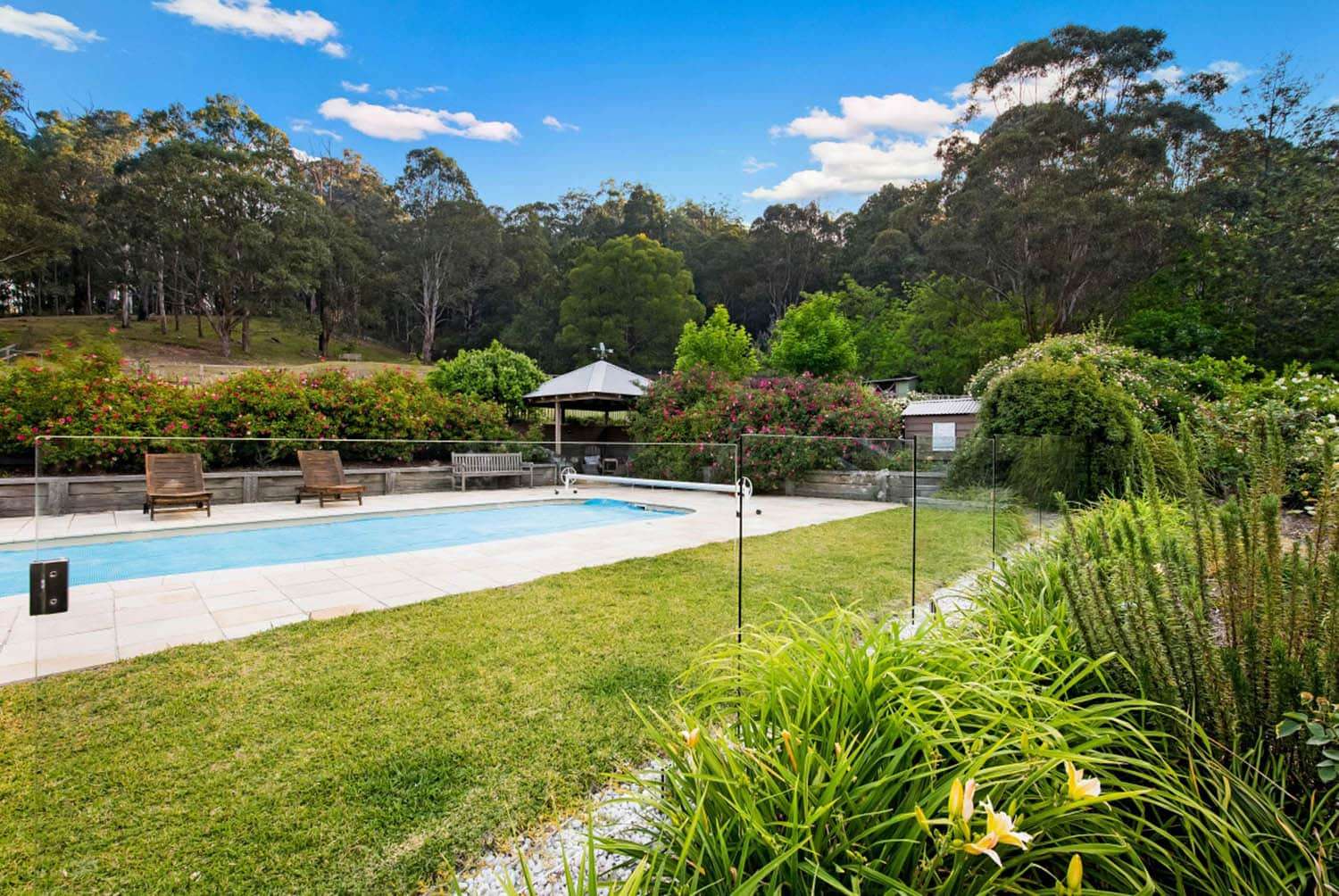 Kookaburra Hill is a luxury accommodation located in the heart of Kangaroo Valley. The architect-designed home sits on a five-acre piece of land with beautiful gardens, a pool and breathtaking scenes of the Wedding Cake Mountain. The property features three queen bedrooms, a full bathroom, and a vast open-plan dining and living area with a loft, cathedral ceilings and a signature wood-burning fireplace.
The gardens are featured in Australia's Open Garden program and have over 370 heritage roses and a saltwater in-ground solar-heated pool. Kookaburra Hill is child and pet-friendly and is one of the highly-rated luxury Kangaroo Valley accommodations with a pool.
Serendipity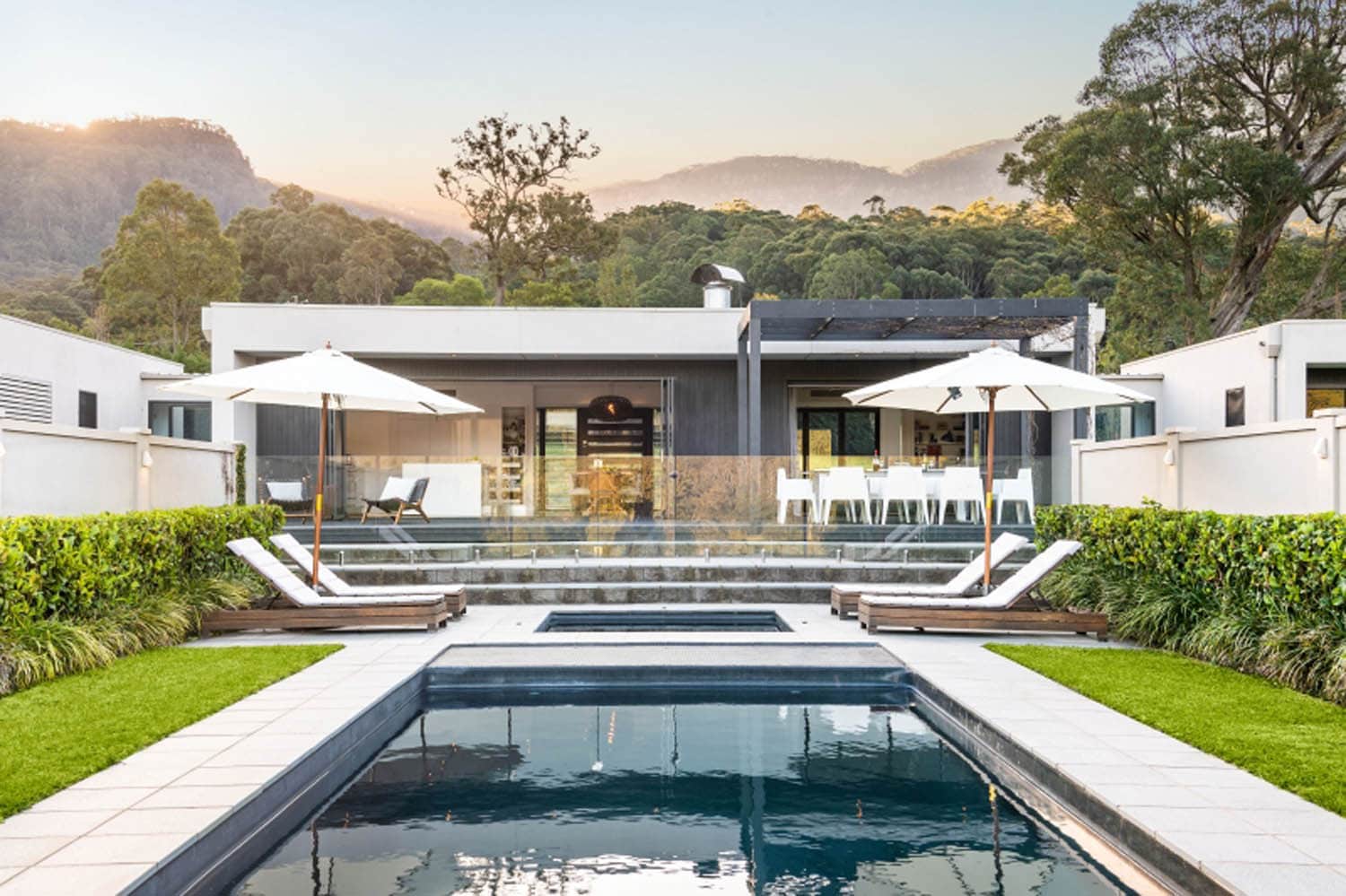 Serendipity is a gorgeous luxury home on a 2.5-acre land. The house comprises three interconnected pods with private ensuites and modern amenities. The open-plan dining and living area features a two-way fireplace and bi-fold doors leading to the outdoor entertaining area with a swimming pool.
The home also has reverse-cycle air conditioning, WiFi, and Smart TVs. Serendipity is a 5-minute drive to the village and 40 minutes to the Southern Highlands. If you want to bring in pets or young children, contact us in advance so we can customize your stay.
Moosewood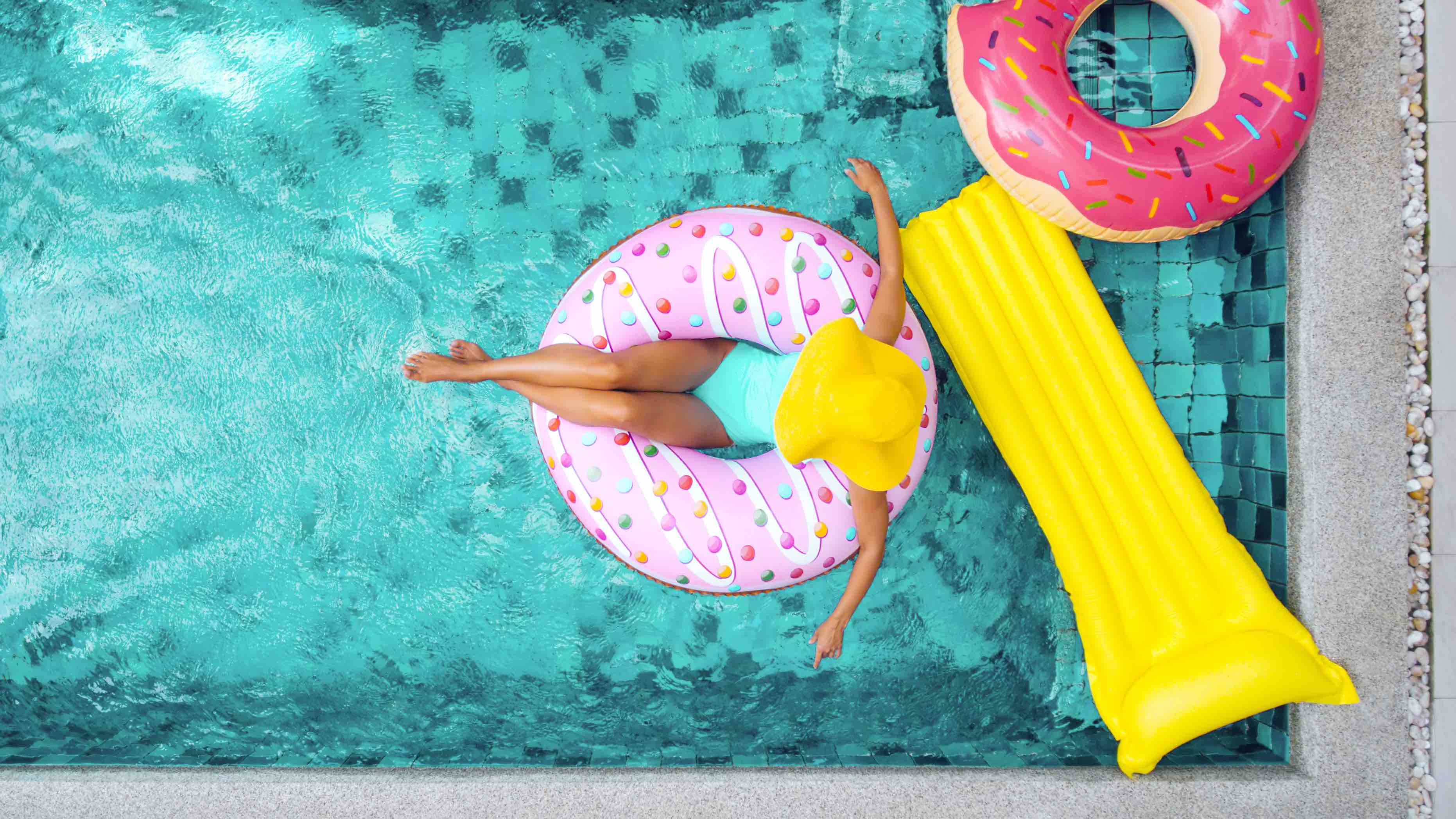 This is a 100-acre property nestled in the beautiful Kangaroo Valley bushland. The 4-bedroom luxury home accommodates up to nine guests and is pet and kid-friendly. Moosewood features a saltwater swimming pool, tyre swings, and a trampoline overlooking the valley. Besides the landscaped garden and BBQ outdoor dining area, the house also has a WIFI, a Tesla car charging station, wood-fired pizza oven, among other amenities.
Braeside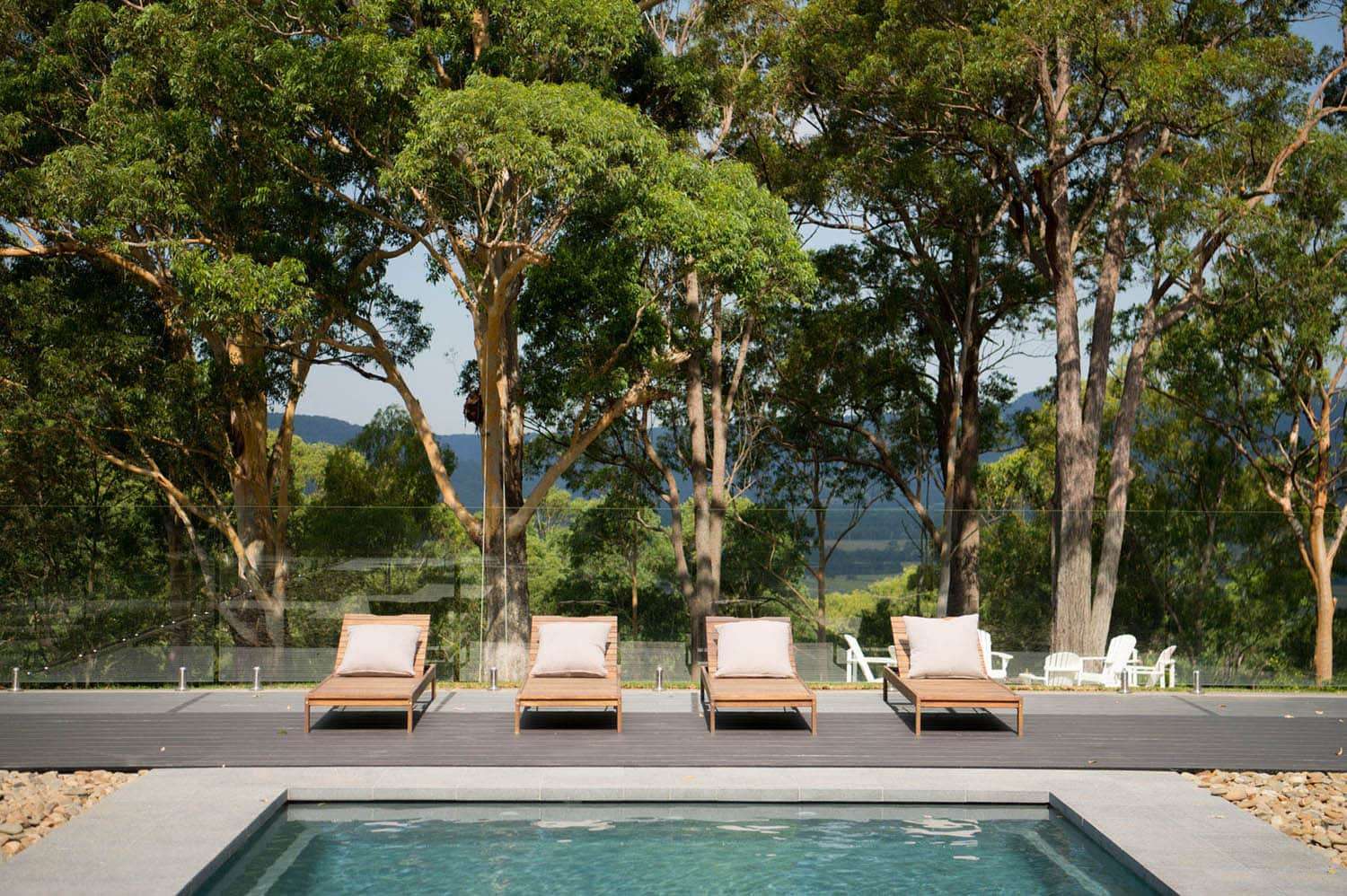 Braeside is a luxurious home that boasts stylish living and dining areas, a chef's dream kitchen, and four large bedrooms with private ensuites. Relax by the fire pit, lounge in the in-ground swimming pool, or guests can take bush walks around the property, exploring nature and meeting local wildlife species from, kangaroos and ducks, echidnas, wombats, and wallabies. Braeside is the perfect family-oriented destination for a relaxing vacation or a pre or post-wedding stay.
Westbrook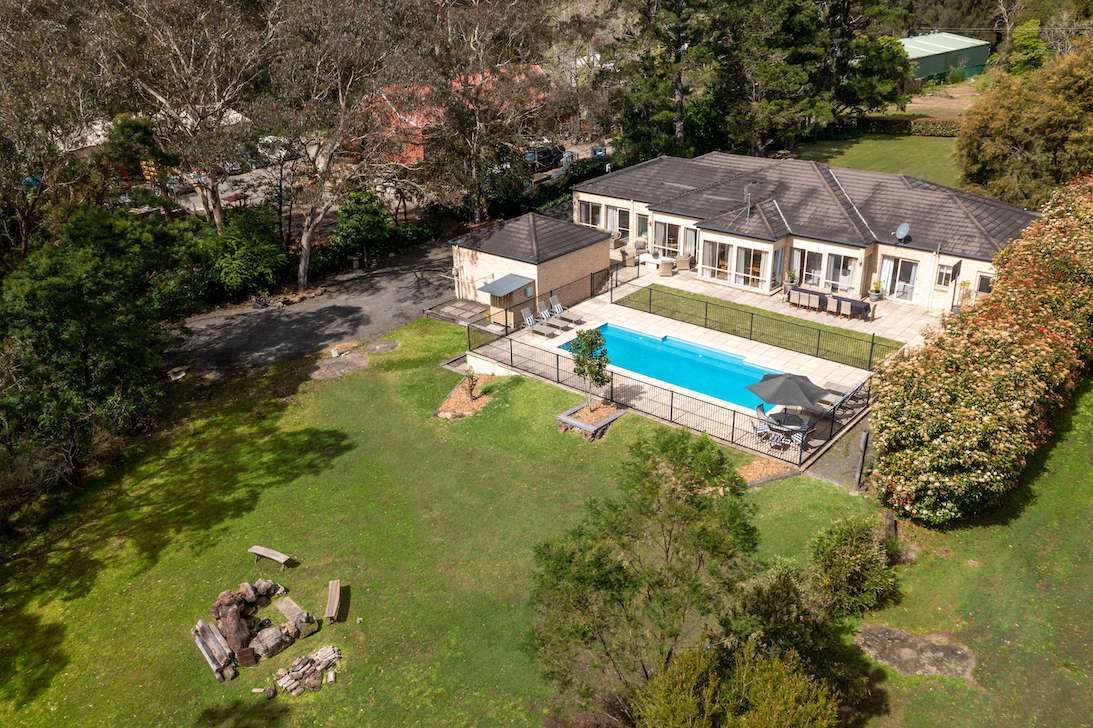 If you are looking for a spacious and comfortable home in Kangaroo Valley that can accommodate your family or friends, Westbrook could be your ideal pick. Unlike the other luxury Kangaroo Valley accommodation with a pool, this home is in a serene environment free from noise and disturbance. It's a 5-bedroom recently refurbished home boasting a large kitchen, an open living area, a pool area, and a media room. On the outside are a BBQ facility, an in-ground pool, and outdoor lounges. Westbrook isn't pet friendly, and the management strictly prohibits events or parties.
Black star Kangaroo Valley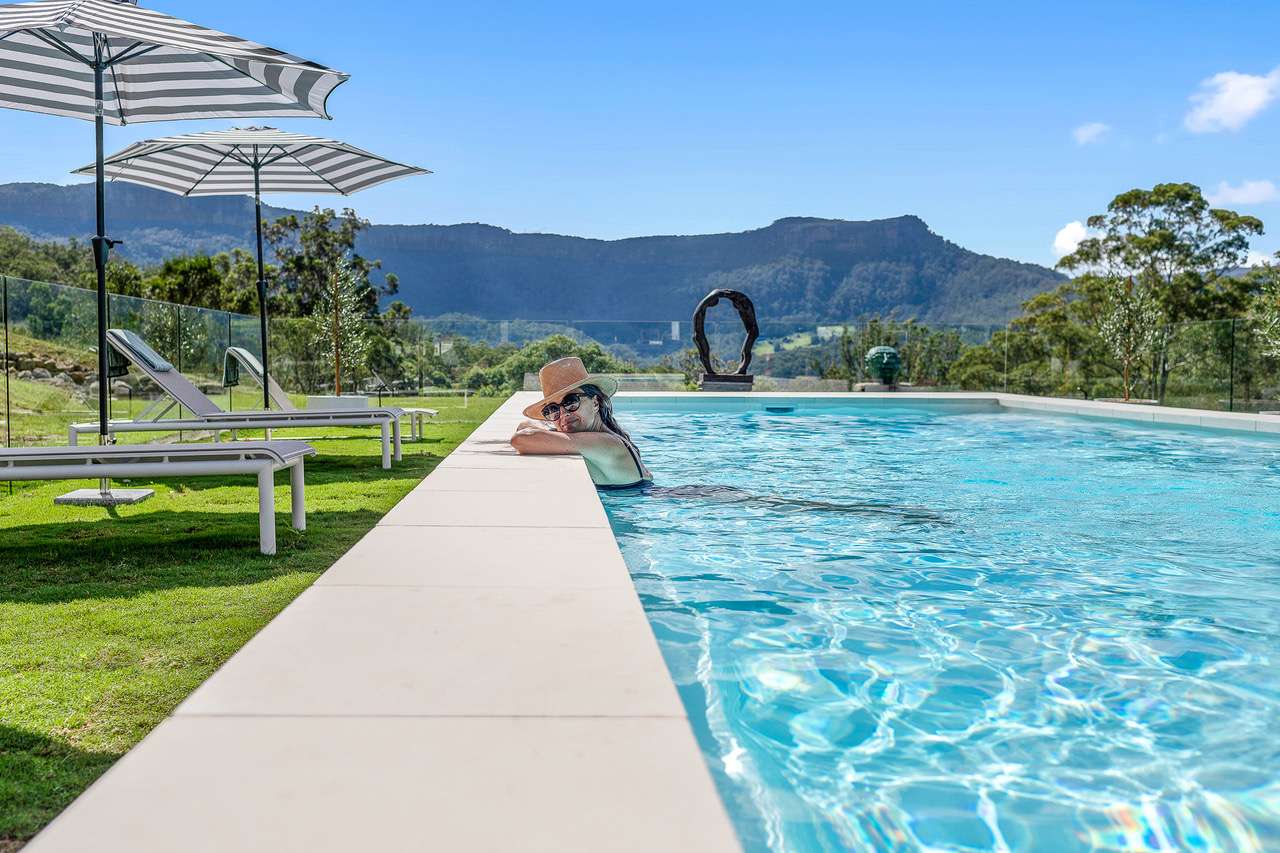 Black Star Kangaroo Valley is a boutique accommodation on a 5-acre property in Kangaroo Valley. The house is a modern take on a traditional black barn with views of Barrengarry Mountain. Its interiors are bold and intimate, with a Chevalier glass-box log fire at the centre of the main living room. The kitchen is equipped with high-end appliances, and the bathrooms have underfloor heating.
Inside the master bedroom is a standalone bath. Bi-fold doors open to the exterior deck, and a swimming pool has recently been added. There's also a private chef and massage area available on booking. And unlike most properties on this list, a refundable Security Bond is required before a guest's stay.
Avonlea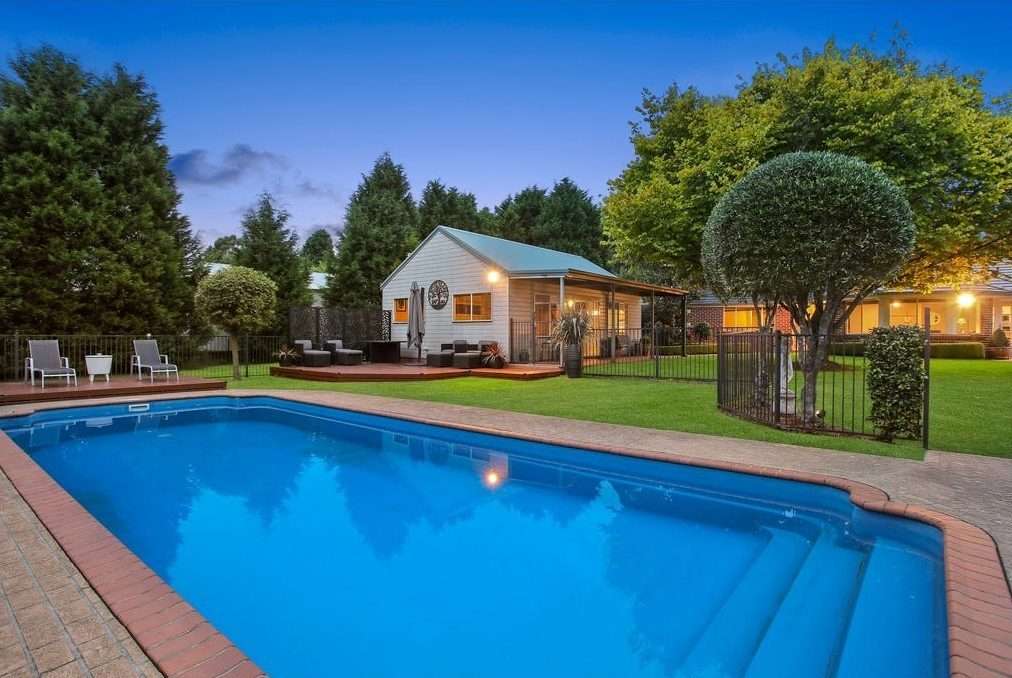 This is a spacious six-bedroom home sitting on a 2-acre piece of land. Avonlea accommodation is located 10 minutes from Bowral town centre and surrounded by English-style gardens for your privacy and enjoyment. With a large kitchen, two dining areas, and a spacious living area, the house offers comfortable accommodations for friends and extended family members. Among the six-bedroom is self-contained one-bedroom parents retreat with a lounge area, a queen bed, a sauna and a Smart TV. A solar-heated swimming pool, fire pit, and BBQ facility create a resort-style living experience for all guests.
Chislehurst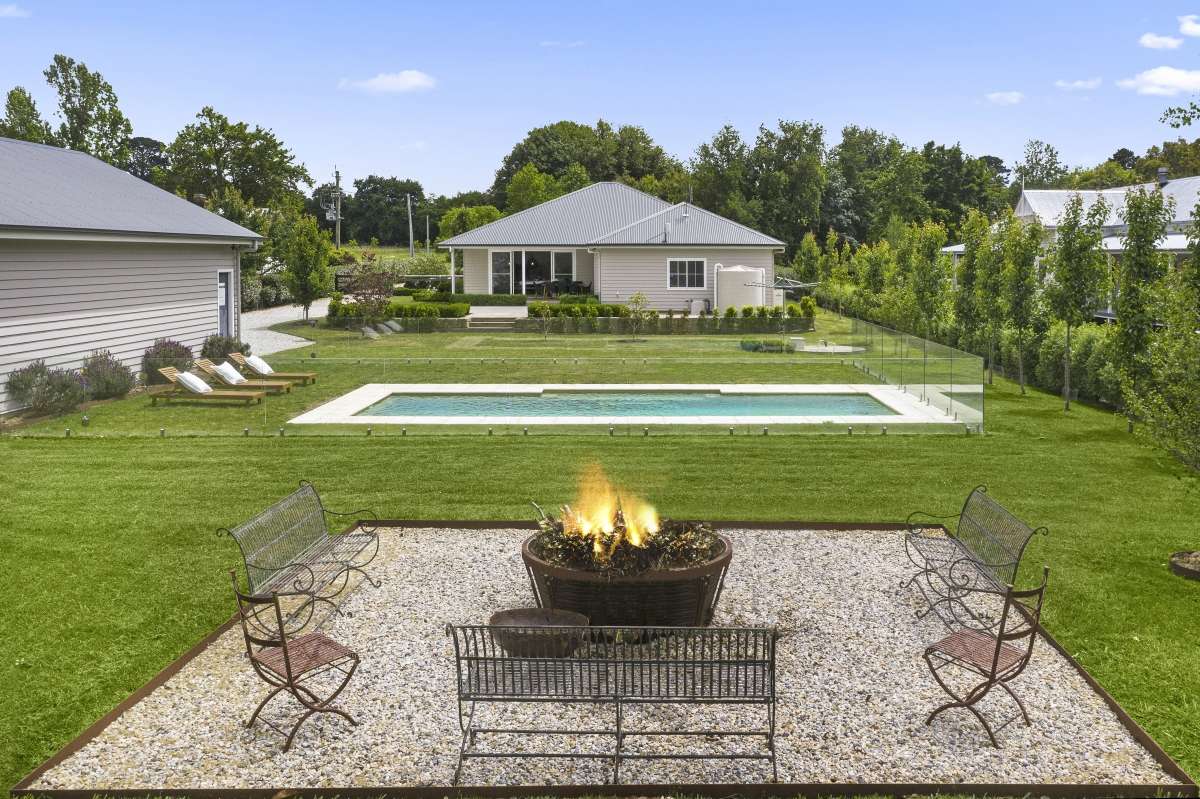 Chislehurst is a newly built luxury home that's spacious and tastefully decorated to appeal to all guests. This four-bedroom home is located in the beautiful Southern Highlands village and offers modern amenities with plenty of opportunities for relaxation. During your stay, you'll explore nearby attractions like the Exeter Village markets, lifestyle stores, and local wineries.
The home also features a well-equipped kitchen, elegant dining and living areas, and outdoor entertainment spaces. During the hot summers, you can unwind by the pool or gather around the fire pit on cooler nights. Additionally, the house has air conditioning for comfort throughout the year.
Choose the Best Accommodation
All the options above are great, but some will appeal more to your needs and preferences. A rule of thumb is to compare and contrast the various amenities, locations, property sizes, and features. If you need help choosing the perfect home for your stay, contact us; we'd love to help!
See more: Farm stay in Kangaroo Valley